Badge reels in all shades of blue
Oct 2018
After the string on my badge reel broke (for the nth time; they are cheaply made and wear out every few months), and the Admin said she was out-of-stock for the foreseeable future, I thought, why not get my own?
One of my minor pet peeve is that the badge reel is not in the company color. Adding a logo is expensive, but surely get the color correct at least?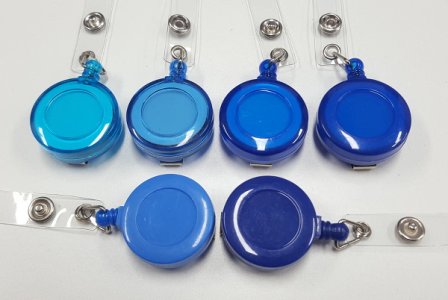 So I bought a bunch from TaoBao. Badge reel is 易拉扣. This is the key to finding them. They are really cheap.
The leftmost badge is supposed to be cyan, but it is bluish cyan instead. The second badge is a shade lighter than its picture. The third and fourth badges are grouped as dark blue, but it turns out to have two distinct shades (blue and dark blue).
The bottom left badge is the closest to company blue, but I like the transparent ones better.
Perhaps I bought from too cheap a seller. Many of the badges are scratched... but they still look okay from afar.
10 years of Pandemic
Sep 2018
Pandemic: 10th Anniversary Edition (2018) [MSRP US$100]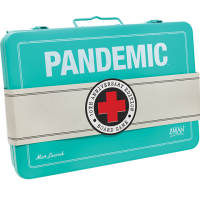 Announced by Z-Man Games in July. Buy from them and get a limited edition with painted miniatures. Other retailers are listing it for US$85.
Will I get it? Most probably not. It is prettier, but the normal edition holds its own, especially if you take the price into account: US$85 vs US$35. And this is not compatible with the normal expansions. (Expansions will be released in this style if it does well.)
I already have both the first and second editions. :-O The second edition is already pretty nice. Plus, I have pimped the set with custom player pawns (US$15) and virus tokens (US$46).
This situation is similar to Power Grid Deluxe, US$52 vs US$34. Except I did buy it, and I always have second thoughts. The maps, resources and rules are changed — I prefer the original — and it is arguably uglier than normal PG. :lol:
In the past, I thought a 10th anniversary edition would be an automatic buy. It turns out not.
HDD SMART data 2018
Aug 2018
| Drive | Size | Power On Hours | Power Cycles | Load Cycles |
| --- | --- | --- | --- | --- |
| Primary | 2 TB | 55,757 | 621 | 771,881 |
| data2 | 2 TB | 21,949 | 90 | 4,458 |
| Transporter (ext) | 1 TB | 7,502 | 432 | 3,573 |
| OfflineStore (ext) | 2 TB | 351 | 441 | 2,623 |
| BackupL2 (ext) | 3 TB | 237 | 264 | 1,161 |
| infplus1 | 6 TB | 1,984 | 24 | 256 |
| omega2* | 6 TB | 45 | 6 | 22 |
Nov 2016:
| Drive | Size | Power On Hours | Power Cycles | Load Cycles |
| --- | --- | --- | --- | --- |
| Primary | 2 TB | 40,303 | 593 | 771,866 |
| data2 | 2 TB | 9,487 | 61 | 2,927 |
| Transporter (ext) | 1 TB | 6,549 | 395 | 3,250 |
| OfflineStore (ext) | 2 TB | 343 | 424 | 2,487 |
| BackupL2 (ext) | 3 TB | 221 | 237 | 953 |
| infplus1* | 6 TB | 389 | 14 | 118 |
April 2014:
| Drive | Size | Power On Hours | Power Cycles | Load Cycles |
| --- | --- | --- | --- | --- |
| Primary | 2 TB | 17,612 | 49 | 771,793 |
| data2 | 2 TB | 167 | 5 | 291 |
| Transporter | 1 TB | 917 | 90 | 762 |
| OfflineStore | 2 TB | 218 | 197 | 1,834 |
| BackupL2 | 3 TB | 126 | 69 | 288 |
Note that I have named my drives, with the exception of the primary drive. :lol:
Scanning for bad blocks
Aug 2018
In June, I downloaded a multi-part review of The Last Jedi, appropriately named A Critique of Star Wars - The Last Jedi [MauLer]. A few days later, I found that it could not be played back.
I immediately knew what it meant: bad sectors. However, I did not think the HDD developed new ones. Rather, these were missed in the previous scan — I only did one scan the last time. Now thinking back, that was very optimistic.
(I did not delete the file, but renamed it to .bad so that the sectors were not freed up.)
I kept putting off a full disk scan (even though the server would remain up) until now. Check file system for bad blocks (must be unmounted):

sudo e2fsck -k -c /dev/sdxn

-k preserves the existing list of bad blocks. Unfortunately, I overlooked it, so I lost the original list of bad blocks.
The first time I ran it, it took 2+ days and marked 1,233 bad blocks. The second time I ran it (with -k), it marked 1,272 bad blocks (+39). It took ~2 days. I think the existing bad blocks are skipped. The third time I ran it, it marked 1,275 bad blocks (+3).
Finally, I ran it with a second -c (non-destructive read-write test):

sudo e2fsck -k -c -c /dev/sdxn

1,277 bad blocks (+2).
Moral of the story: one scan is insufficient.
Interestingly, SMART data from 7/2017 shows 1,265 bad blocks. SMART data now shows 1,286 bad blocks.
I found an old list of bad blocks from 8/2013 and there were 2,188 entries. I wonder where the rest of the bad blocks went? Were they remapped by the drive?
The lastest Pi
Jul 2018
One year after Stretch was released, I finally upgraded to it from Jessie. I put it off because the recommended way was to install it on a new SD card.
There is an official guide to upgrade in-place, but it is discouraged. It is really simple:
In /etc/apt/sources.list and /etc/apt/sources.list.d/raspi.list, rename jessie to stretch.
Then, run these:

sudo apt-get update
sudo apt-get -y dist-upgrade

(This is apparently the Debian way.)
It took over a day to download all the packages... the server is really slow.
The reason this approach is discouraged is that if things go wrong, you need to be reasonably comfortable issuing "arcane" Linux commands to make it work again. Luckily for me, I did not make much changes and all it did was ask me to choose between my modified config files or the new ones. I always choose the new one and re-apply my modifications after the installation, unless my changes are the only changes.
I have upgraded my Ubuntu in-place from 10.04 to 12.04 to 14.04 to 16.04, mostly problem-free. 18.04.01 is almost available, but I'll wait another three months. :-P
One thing I've wanted to do is to change to 64-bit version — 32-bit OS is passe these days. Almost everyone says a reinstallation is needed, that's why I've been putting it off. But I just read a post from someone who had done it — successfully. Doable, but scary. I need to think about it. :lol:
In-place upgrade is "fun", but the easiest and cleanest is to install 64-bit 18.04.01. I don't have that many customizations anyway.
An era passes
26 Jul 2018
2008 to 2018. Ten years. End of an era.
An expensive month
Jul 2018
| | | |
| --- | --- | --- |
| 25/6 | Car servicing | $1,061.44 |
| 6/7 | Air-con servicing | $408.74 |
| 14/7 | The Lion King musical * | $398.00 |
| 16/7 | Air-con check-up | $85.60 |
| 23/7 | Change air-con compressor | $845.30 |
| 26/7 | Bike COE | $7,073.00 |
| 26/7 | MakeToys MTRM-09 Downbeat (Jazz) 2 | ~S$108.00 |
The air-con broke down six days after servicing. What luck. The Daikin personnel took 5 minutes to diagnose the compressor was spoilt — it was the easiest $86 to earn. The cheapest and least disruptive option is to change the compressor. Let's see how long it lasts.
The bike PQP went as low as $5,005 in Nov 2017. I paid $2k more for 8 more months. Bike PQP is on a downward trend. August PQP is $6,819, but I could not opt for it as my COE expires on 31th July.
When I renewed, the website reminded me that I could get $3.5k if I scrapped the bike instead. If I renewed, I could only get S$2k if I scrap before Apr 2023.
Anyway, my bike cannot be used after June 2028 (so I lose one month). LTA wants to reduce the bike quota, yet is desperate to keep COE low and force old bikes off the road. Let's see if the ruling will change.
A rare clear night
Jun 2018
Field report, posted on CN:
Last night (23 June) was the first cloud-free night I had in almost a month.
I had taken excellent seeing for granted in past months. But it was very bad in June. I managed to observe only on three nights, and even then, there were very thin high-level clouds that reduced Jupiter's brightness.
Not yesterday. I observed around 8pm. Jupiter was at 59 degrees altitude. It shone very brightly and the GRS just rotated into view. Wonderful!
I have an array of cheap eyepieces, but I have settled on just three for Jupiter: 15mm (100x @ 1.2mm exit pupil), 10mm (150x @ 0.79mm e.p.) and 8mm (187.5x @ 0.6mm e.p.). The last two are a perfect match for my 127SLT.
It did not disappoint. With my 8mm EP, Jupiter was still bright — whitish with brown belts and a pale orange GRS — and showed as much details as my scope could give.
(In comparison, on a poor night, 10mm EP is already marginal.)
As I had a good feeling about the seeing, I brought along my 6mm EP (250x @ 0.48mm e.p.). With it, Jupiter was still pretty bright and detailed, and the main belts were still brownish! That's how I knew seeing was excellent!
(I could go higher if I had brought my 2x extender along. I had stopped doing so as there was no point. But it was nice to see how brightness limits magnification.)
So, I took out my binoviewer. My lowest EP pair was 15mm. (I had been too optimistic about viewing conditions.) In the past few times, even that was too much — it stole so much light that it was dimmer than 10mm solo, and looked worse than 8mm solo. (On those same nights.)
Yesterday was different. I had enough light at both 15mm and 10mm. I had a 8mm pair, but I didn't bring the second EP along. 10mm is about the highest I can use on my binoviewer anyway — it is as bright as 6mm solo. I was very optimistic.
Strangely, I had more issues with my 15mm than 10mm EP. While there is some pseudo-3D look, it looked a tad softer. I will continue my struggles with binoviewing another time. :lol:
A very satisfying night.
Addendum:
The Moon was just next to Jupiter, so I slewed over for a quick look after viewing Jupiter. It looked a bit tighter in the 15/70 EP than I remembered — perhaps it was closer this time.
When the Moon becomes full, I must pull out my ES 11/82 EP and see why I can't fit it in! :lol:
I forgot to use the binoviewer on the Moon! :duh:
A big view of Jupiter, or not
Jun 2018
Last Friday (22 June), the skies cleared up, so I made a trip down to my local observatory (Science Centre) for their weekly stargazing session.
My objective is to view Jupiter through some bigger scopes and see how much I'm missing out.
The main telescope is a 16" f/13 Cassegrain reflector, housed in a 2nd-floor dome. I have very high expectation. If they target 1mm exit pupil, the magnification would be 400x! (The sky here can support such magnification on good nights — with room to spare.)
Unfortunately, the last time I was there, clouds had rolled in and all I could see was a dim brown marshmallow.
This time, they set up a C8 (8" f/10) at the open space as well, also pointing at Jupiter. Wonderful! It'll be a more meaningful comparison against my scope — at least I can afford to upgrade to this scope if it proved much better!
After half-an-hour of waiting (there is a time slot and you need to queue), it was finally my turn. I looked up. Sky was clear. Jupiter was shining bright at 55 degrees altitude. Perfect!
What fabulous sight awaited before me?
A bright white disc. It was big, but not as big as I had expected. I could vaguely see traces of the main belts. And three donuts on one of its side.
"Is it focused?", I asked.
Why sure it is, the person manning it answered. He even double checked.
Hmm. I went back to make the most of my time at the scope. (There is no set limit, but keep in mind the queue behind you.)
After that, I checked what eyepiece was used. It was a 40mm Tele Vue eyepiece. The magnification works out to be 130x (@ 3mm exit pupil).
Disappointed and puzzled, I exited the dome, climbed down the stairs and walked over to the C8. After a short wait, it was my turn. Jupiter was very bright and very small. And it was a little out-of-focus.
This time, the person manning the scope said I could adjust the focus. Finally, Jupiter snapped into focus. I could just barely make out the two main belts in brown. It was too bright.
I gave up after a while because the image was just too small and glaring to see any details beyond the main belts. The C8 was on a manual equatorial mount and needed constant adjustment. I looked at the eyepiece. It was a 40mm Tele Vue eyepiece. The magnification is just 51x (@ 4mm exit pupil).
"Jupiter is pretty small", I remarked. The person agreed. She said this scope was meant to view the Moon.
I gazed up at the sky. Jupiter was still shining bright and clouds were still some way off. If I hurried home, perhaps I could get a proper view of Jupiter.
What went wrong?
First, I wonder if the focal point of my eyes is so far from norm? Even with my glasses?
Second, it didn't dawned to me that I could ask to adjust the focus myself.
But lastly and most disappointingly, the magnifications used were too low. They should at least be doubled: 100x for C8 and 250x for the main scope.
Home
When I reached home, clouds had blanketed the skies. Unexpectedly, they blew over rather quickly (within an hour), so I hurried out to observe.
I used both 15mm EP (100x @ 1.2mm exit pupil) and 10mm EP (150x @ 0.79mm e.p.). Jupiter was at 73 degrees altitude and was bright white, but not excessively so, much sharper and detailed. As a bonus, the GRS was in view. The four moons were dots with airy disc around them (as usual).
I did not go higher as high-level clouds were limiting Jupiter's brightness (but not its stability).
I had my answer.
It's all about exit pupil
May 2018
Third post on Cloudy Nights with some corrections:
Bright and/or high contrast objects can defy the usual law of useful magnification, but the rest, such as Jupiter and Saturn, have to obey them.
A commonly quoted limit is 1.3 x aperture-in-mm. At this magnification, the scope is already at full resolution. Anything higher is simply to make it bigger for you to see, but it will not be more detailed. For your Mak, it would be 234x (using 11.5mm eyepiece). You can turn this around and think of this as the minimum magnification to use. :-D
So, what stops you from using higher magnification? One word: exit pupil. As magnification increases, the image gets dimmer, more blurred, and floaters become more visible. At some point, they are not worth it anymore. (Mount and seeing issues aside.)
Another way to phrase 1.3x aperture-in-mm is 0.77mm exit pupil.
Another limit is 0.7mm exit pupil, the lower bound for our eyes to detect low contrast features. This is important if you want to view the low contrast features of Jupiter and Saturn. Higher magnification works, but you may see less. This is 257x (10.5 mm eyepiece) on your Mak.
These numbers will vary by person, but I guess they won't deviate by much.
While it is good to experiment with extreme magnification, after a while, you may find that you don't need very high powers after all.
I can see the two main belts of Jupiter at 60x (25mm EP), with a hint of a third belt below. It had not dawned to me to look for the GRS at 60x, but I see it distinctly — it is really pale — at 75x (20mm EP). To see anything else, I need to use 188x (8mm EP). Somewhere between 170x (0.74mm exit pupil) to 188x (0.68mm exit pupil) Jupiter dims just enough to reveal gradual shading (I didn't try 176x [17mm / 2, 0.72mm exit pupil]). I have used as high as 448x (6.7mm / 2), but it just shows more-of-the-same (the image quality is still surprisingly okay).
For Saturn, I see the Cassini Division distinctly at 60x and a hint of the equatorial band. At 88x (17mm EP), I can see A ring is much fainter than B ring. (I didn't try 20mm.) Sadly, that's all I can see, no matter how much power I use, but I haven't spent much time on it.
It took me a while before I realized the futility of using too-high magnification. The truth: the scope forms the image, the eyepiece magnifies it. 0.7mm exit pupil is the max for every scope. Want to see more details? Get a bigger scope.
Piling on debt
May 2018
News: Malaysia's debt at alarming level of S$337 billion, says Dr Mahathir
Date: 22 May 2018. Source: Today.
Malaysia's debt has reached an alarming RM1 trillion (S$337 billion), said Malaysian Prime Minister Tun Dr Mahathir Mohamad on Monday (May 21), as he pledged to restore the nation to its former glory.
Blaming the previous government led by former protégé Datuk Seri Najib Razak, who now faces domestic graft investigations, Dr Mahathir said important measures must be taken for the South-east Asian country to quickly recover from the situation, pointing out Malaysia had debts of about RM300 billion only when he was previously prime minister for 22 years.
"We find that the country's finances for example, was abused in a way that now we are facing trouble settling debts that have risen to a trillion ringgit," he said in his maiden address to civil servants of the Prime Minister's Department.
"We have never had to deal with this before. Before we never faced debts higher than RM300 billion, but now it has climbed to RM1 trillion."
Dr Mahathir, 92, was Malaysia's prime minister from 1981 and 2003. He came out of retirement and joined hands with the then Pakatan Harapan (PH) opposition pact to oust Mr Najib, whom he accused of corruption.
At the momentous May 9 general election, PH defeated the Barisan Nasional (BN) coalition that has ruled the nation for six decades since independence from Britain.
Dr Mahathir was sworn in as the country's seventh prime minister the next day.
In his first week in charge, Dr Mahathir announced that a broad-based goods and services tax (GST) would be zero-rated from June 1, as his government works to replace it with a reinstated sales and services tax (SST).
Besides doing away with GST, Dr Mahathir had also promised to reintroduce fuel subsidies — all part of his coalition's pledge to tamp down rising living costs.
Dr Mahathir's fiscal measures, however, would widen Malaysia's fiscal deficit and are credit negative without any offsetting measures, according to ratings agency Moody's.
Datuk Seri Najib's government had planned to collect RM43.8 billion in 2018 in GST, about 18 per cent of total revenue.
During the election campaign, Datuk Seri Najib had warned that Dr Mahathir's economic proposals would result in debt ballooning to over 1 trillion ringgit.
Datuk Seri Najib also rebutted opposition claims that federal debt had risen to alarming levels under his governance, and said that debt amounted to about 50.9 per cent of its GDP at June 2017, which was below the government's limit of 55 per cent.
Dr Mahathir said last week that many of the figures recording the country's financial position may be false.
The new prime minister on Monday also lamented the decline in respect for the country, which was "once looked up upon as among the best in Commonwealth countries".
"Our country was well-respected previously, but now it is not the same as in the past. We must restore the country to ensure that it will be looked highly upon and respected once again," he said.
He also said it was imperative to keep the country's institutions independent and separate.
"The separation of powers among us must be maintained, as only through this way we can make sure there is not embezzlement in the country's administration. We have to separate the lawmakers, the enforcers of the law, and the judiciary," he said.
Allowing the three pillars of government to intermingle would erode their accountability and allow one to dominate the others to the point that they could no longer check each other, he said.
Co-mingling of powers could even facilitate actions that were against the laws, as those entrusted to enforce these would be complicit with those breaking them, he added.
Critics had previously accused Mr Najib of concentrating power in the hands of the executive that he controlled, neutering the powers of the legislature and judiciary to act as watchdogs to his administration.
Dr Mahathir said many changes needed to be made, but he was heartened that it could be done with the help of civil servants.
"We are confident that we can overcome the challenges but we need civil servants who are efficient and trustworthy to achieve these changes.
"As administrators, one must put the rule of law above all else and those tasked to carry out their duties must help to clean things up so that Malaysia can be on the road of recovery. All of us must work together to achieve this".
He said that possible changes were being thoroughly studied, but it was too soon to disclose what they were.
He wanted undivided support of the civil servants to get Malaysia back on the right track of economic recovery.
"It won't take too long for the country to recover and be respected once again, if all of us work together," he added.
The next few months will be very interesting. Introducing fuel subsidy and doing away with GST will make it worse.
In other news, Finance Ministry has been paying 1MDB debt since April 2017 (for a total of RM6.98 bil), and the next payment, RM143.75 million, is due 30 May. And the next payment is RM810.21 mil (of interest!) between September and November.
And these are small potatoes compared to its guaranteed debt of RM38 billion (US$9.54 bil). And even this pales against the country's debt of RM1 trillion...
I won't be surprised if Dr Mahathir pulls a rabbit out of his hat — something he has done in critical situations before. 1MDB has to be contained somehow.
Update: Dr Mahathir has decided to cancel the HSR project.
Peak bazaar rent
May 2018
News: Rising rents worry some Geylang Serai bazaar stall owners
Date: 21 May 2018. Source: ST.
Rent for 2.7m by 2.7m food stall has doubled from $10,000 in 2014 to $20,000 this year
The annual Hari Raya bazaar in Geylang Serai has drawn huge crowds in recent years, but stall owners say they have had to pay a price for the bustling event.
They say rental costs have jumped by at least 10 per cent to 20 per cent from last year, and some even claimed to be paying more than double the rate.
The Straits Times interviewed 13 hawkers at the bazaar, which officially opened last Thursday - the first day of the Muslim holy month of Ramadan - and runs until June 14.
The bazaar features more than 800 stalls which sell food, cookies, traditional clothing, jewellery, rugs and many other items.
It cost about $10,000 to rent a 2.7m by 2.7m food stall in the bazaar in 2014, but that figure has doubled to $20,000 this year. Clothing and decoration retail stall tenants had to fork out an average of $9,000 for the same space this year.
Owner of EnNiche Events, one of the operators appointed by organiser Kampong Ubi CC, Mr Mohamed Mustaffa Shah Jehan, 34, attributed the rising rentals to the increasing bids during the tender for the bazaar. He noted that it totalled almost $3 million this year, and said he hoped the bazaar organisers would set a cap on such bids in the future.
There are usually several organisers for this event. Each will put out a tender to appoint bazaar operators, who then engage tenants for stalls in areas within their purview.
At least one stall owner appears to have decided that he will not accept any more rental increases.
Mr Mahendra Sakkaravarthi, 31, of Mr Vadai, an Indian food stall selling local delights such as prawn vadai and briyani, indicated that he could drop out next year, bringing his family's 30-year participation in the bazaar to an end.
Mr Sakkaravarthi said he has had to cope with an 80 per cent increase in rent since he first took over the stall from his family 15 years ago. He is paying $20,000 this year for a 2.7m by 2.7m space, an increase of $2,000 from last year.
He said: "I was shocked when I found out that rental had increased again. This excludes the cost of water, electricity and manpower."
The cost of water is $500 per sink, while electricity supply costs between $500 and $1,000 for most stalls. Mr Sakkaravarthi also pays each of his four workers $100 a day to man his stall. He claimed that most of his profit from last year went to paying rental and maintenance costs.
Drink stall owner Fadzlon Mohammad, 26, said some previous tenants had been put off by the rental hikes: "Last year, the layout was very compact. But this year, there are gaps between the stalls because of fewer tenants."
But the Geylang Serai Citizens' Consultative Committee (CCC) and Wisma Geylang Serai, one of the organisers of this year's bazaar, attributed the decrease in the number of stalls to competition from other mega bazaars across the island.
Many hawkers, however, remain optimistic about sales this year.
"Sales have been good so far. I think we will be able to cover the rent about midway through the bazaar period," said Mr Rishi Kesan, 33, co-founder of a new venture, Chef Syed X Meatballs in a Bucket.
Senior Minister of State for Defence and Foreign Affairs Maliki Osman, who hosted the official opening of the Asean Street Fair at the bazaar last Thursday, said that he was aware of concerns about rising rental costs at the bazaar.
"We will work with the other operators of the different bazaars in the area and hopefully in the years to come, we will be able to manage some of these challenges (like rising rentals)," said Dr Maliki, who is also Mayor of South East District, which includes Geylang Serai.
This HWZ forummer puts it much better than I can:
Singapore is well known to be an extractive rent-seeking economy in which significant wealth is accrued by individuals who are economically unproductive relative to those they are collecting rent from, namely the biggest landlord, the government and its cronies.
This is Singapore's downfall as capitalism is in essence meant to reward those who are most productive, not those who can pass laws and regulations to sap wealth from other productive working individuals.
Of course, the biggest landlord, its cronies, rent seekers and other obvious direct beneficiaries of rent seeking behavior here will strongly disagree with me or maintain their silence.
Everyone aspires to be a landlord because they see how easy and profitable it is.
I'll calling peak rental this year, as there are now not enough stalls to fill up the whole space (gap between stalls).
Depreciating day by day
May 2018
News: There is still value in older HDB flats
Date: 17 May 2018. Source: CNA.
There is still value in older HDB flats which can be unlocked for retirement, said Minister for National Development Lawrence Wong in Parliament on Thursday (May 17).
Speaking during the debate on the President's address, he said there have been concerns about the impact of lease expiry on HDB resale prices.
Quoting transaction data over the past year, he said that an older 4-room flat with less than 60 years remaining on its 99-year lease would sell for around S$300,000 and a 5-room would sell for around S$400,000 in non-mature estates.
For flats in more popular locations, prices can be significantly higher, he added. "So the transacted price depends not just on length of remaining lease, clearly, but also many other attributes," he said, adding that factors like location, storey height, and the condition of the flat are all relevant.
Whatever the price, the sales proceeds would be "more than sufficient" to purchase a smaller flat, he said.
He gave the example of 67-year-old Abdul Aziz Haji Hamdan, who owned a 3-room flat in Marsiling with around 60 years remaining on the lease, and moved to a studio apartment in Kampung Admiralty with a 30-year lease.
His S$250,000 sales proceeds were more than sufficient to cover the purchase price of more than $100,000, and provided excess in cash and CPF proceeds, supplementing his retirement savings, he said.
He harked back to the time when people were speculating in older HDB flats hoping to benefit from the Selective En bloc Redevelopment Scheme (SERS).
"Now the reverse has happened, and there are people overly anxious about how much their older flats can fetch in the resale market," he said.
SINGAPORE STILL SEVERELY CONSTRAINED BY SPACE
Addressing calls by some to allow automatic lease extensions or lease top-ups by private developers for older HDB flats, which mostly have more than 60 years remaining on their leases, Mr Wong said: "It will be easy for me to give you a politically expedient answer now and try to wave away the problem, but there are serious trade-offs and ramifications to consider."
This is because Singapore is still severely constrained by space, despite the Government's best efforts at planning, he said. He questioned what would happen to Singapore's children and grandchildren if there is "no more land" to recycle for future public housing.
"How will they have access to subsidised housing in the future?" he asked.
"The Government must grapple with these questions, study the matter, and do the responsible thing," he said.
The issue of lease extension is also not so straightforward a matter, and it must not be assumed that everyone wants it, the minister said.
There is also the issue of maintenance.
"Much more maintenance is needed for older flats and this will be costly for residents," said Mr Wong.
He added that the Government made it clear from the HDB lease is 99 years, which is "a long time" covering two generations.
"Our duty is not just to the current generation who already own homes, but also to the future generations – those not yet voting, and those not yet born, whose lives and future depend on us making the right decisions on their behalf," he said.
There is still time to work through the issues, he added.
MISINFORMATION CAN IMPACT MARKET
But for now, what's important is that people do not speculate or spread misinformation which can impact on the market, Mr Wong said.
One such example of misinformation was that the Government would stop the use of CPF entirely for the purchase of HDB flats.
Addressing this in his speech, Mr Wong said the Government has no such plans.
Even for older flats, CPF can still be used but under certain conditions to safeguard homebuyers' retirement adequacy, he said.
The speculation started from a media report highlighting a suggestion from an academic, who later clarified that his views were not fully reflected.
Still, the information continued to circulate online and through chat groups, Mr Wong said.
"What's important is that we do not speculate or spread misinformation which can impact on the market," he said.
DOING MORE TO MAKE RESALE MARKET WORK BETTER
Apart from the HDB resale portal, which was launched at the beginning of this year to make transactions faster, Mr Wong said more will be done to make the resale market work better.
The Government will provide more information on the available flats in the market, whether new or resale, to help buyers and sellers transact more smoothly and help Singaporeans make more informed housing decisions that best suit their needs.
"We will continue to monitor market trends closely and make use of various policy levers to ensure a stable and sustainable property market," he said, giving assurance that the Government will continue to provide affordable and quality homes for all Singaporeans, both now and in the future.
There is no sugar coating this. Once the lease hits the magic 60 years left, a whole bunch of restrictions kick in and it reduces the appeal of the flat.
The most restrictive rule is the max CPF. For a 30 year old, the calculation is as such: (59 - (55 - 30)) / 59 = 57.6%. He can only use 58% of the max allowed CPF. He won't feel it upfront, but he will need to use cash to pay his installment much earlier.
It'll take another 3 to 5 years before this fact sinks in.
The other rule that age + remaining lease >= 80 years will only be felt when the lease has 45 years left. It restricts buyers to 35 and older. :-O
Will prices come down much? Maybe not. Suppose you buy a 30 year old flat at $700k. Ignoring interest (which is substantial), it works out to be $10k a year, or $833/mth. It is much cheaper than rental.
HDB flat ticking time bomb
May 2018
News: Old HDB flats: Assets losing their value?
Date: 13 May 2018. Source: CNA.
When Mrs Y L Dong and her family moved into their resale five-room Housing Development Board (HDB) flat 20 years ago, she was certain they had found their ideal home. The Ang Mo Kio apartment may have been 17 years old, but its age did not bother her.
"We have all the necessary conveniences like coffee shops and wet markets nearby. It's a really friendly neighbourhood with a cosy feel and it is also really convenient to get to town from here," she said.
But last year, when she approached a property agent with the intention of selling her flat, the response was poor.
"After realising that the lease of the house was reaching its 40-year mark, most buyers weren't keen at all. They were afraid they might not be able to sell it off in the future," said the housewife who has two teenage children.
"Even though the flat is spacious and opposite Bishan Park and near prestigious schools, no one wanted to buy."
Mrs Dong is not alone. A growing number of HDB flat owners are holding on to properties nearing the halfway point of their 99-year leases, raising mounting uncertainties of depreciating values, which have run counter to long-held narratives that Singaporeans' HDB flats are not just homes, but also appreciating assets.
Today, with older flats in the spotlight, the notion of asset-enhancement, which has seen HDB flat prices rise in the past few decades, is under threat.
And the larger question of what will happen to people's HDB homes when leases actually end has become an issue of growing traction.
Experts like Dr Fu Yuming put it starkly. "I know what will happen to a private estate when the land lease expires: it will revert to the government," said the associate professor at the Department of Real Estate in National University of Singapore.
"But I don't know what the government is thinking about for the lease management of HDB estates, since there is no open discussion about the issue. In theory, the estates revert to HDB when their lease expires. But will there be any lease renewal policy or re-housing policy? The uncertainty needs to be resolved to protect the interest of HDB homebuyers."
DON'T COUNT ON EN-BLOC
The issue came under scrutiny last year after National Development Minister Lawrence Wong said in a blog post that the Selective En bloc Redevelopment Scheme (SERS) will apply only to a few flats, not all.
His comments came after reports of buyers forking out high prices for ageing flats, in the hope of cashing in through SERS, where residents are rehoused in new blocks and also receive compensation for their old homes.
But Mr Wong cautioned that SERS is a highly-selective scheme. Since it started in 1995, only 80 sites have been chosen. That makes up a mere 4 per cent of total HDB flats.
There are about 70,000 flats which are more than 40 years old, all facing lease expiry in about 50 years.
Among them, there will be owners who may have bought the new flats at a subsidised rate. But there will be a sizeable group who, like Mrs Dong, are resale flat owners and who bought these flats at a much higher price with the hope of making a profit.
Many could be disappointed. If properties have to be handed back to the Government at the end of the 99-year lease, some owners of old flats may have to sell at a loss, assuming any buyer can be found. And if there are no buyers, owners will eventually be left with an asset which has negligible value. This despite the fact that they may have spent many hundreds of thousands of dollars on it.
The first to cross the line will be the oldest HDB flats in Geylang, Jurong East and Queenstown, and property agents are reporting dips of up to 20 per cent for the prices of these flats, depending on the flat's and the buyer's age.
"We have to educate sellers of these older flats that with the Central Provident Fund (CPF) Withdrawal Limit imposed, younger buyers are no longer keen," said Ms Tracey Wong, chief executive officer at the Institute of Estate Agents, Singapore.
"We then ask the sellers to be more realistic in their sale price in order to attract buyers."
The CPF Withdrawal Limit places a cap on how much a buyer can tap on his CPF for property purchases. The shorter the lease of a flat, the less CPF can be used.
FEAR OF THE UNKNOWN
Mrs Charan Singh, 78, is one of those who worries about the future even though she is not looking to cash in on her five-room flat in Marine Parade, which is 45 years old.
She wants to bequeath the property to her children but wonders if she is passing on a worthless asset.
"I'm content for now but once I die, my flat will go to my children," she said. "If my house does not fall under the SERS policy what will happen to the value of my flat then? What will this mean for my children?"
Experts say there is no point in speculating. Instead, they suggest that the authorities be more transparent, in engaging people more in discussions on the fates of their ageing homes.
"The important question is how relevant policies should be debated and made," said Dr Fu, urging more dialogue on lease management and potential re-housing solutions.
HOME FIRST, ASSET NEXT
On the part of Singaporeans, a shift in mindset would be useful, said analysts. Instead of seeing their flats as investments, they should view them primarily as homes.
"HDB flats are public housing, so it needs to serve the needs of the housing demand first. The decision of buying and selling a HDB flat for investment purposes should not be the end game," said Dr Tu Yong, associate professor at the Department of Real Estate in NUS.
In this regard, homeowners can be assured that the Government will not allow ageing flats to be neglected, said observers.
"The Government is committed to the upkeep of HDB estates regardless of SERS," said Dr Fu. "There has been no general degradation of old HDB estates and, I believe, it is unlikely that the Government will allow general degradation to happen in the future."
One homeowner who is happy with her older estate is Ms Tan Chia Chia, a 42-year-old PhD Student who lives with her 86-year-old mother in a four-room flat at Mei Ling Street in Queenstown.
"I've lived in this estate my whole life and all my memories have been built here," she said. "I'm completely happy with my estate and I hope they never tear it down. There's a lift on every floor and there are ramps around to help the elderly so I couldn't ask for more really."
STILL A GOOD FIRST STEP
While concerns are emerging about ageing flats, both experts and homeowners believe that many properties still retain some value, whether it's monetary or other qualities.
After all, the flats are still subsidised by the government, said Professor Sing Tien Foo, Director of Institute of Real Estate Studies in NUS.
They can still use their HDB flat as the starting house, and accumulate wealth to support their upgrading aspirations as they move onto the next phase of their lives," he added.
If an old flat is in a good location or has easy access to key amenities, there is still a demand, said Ms Wong.
It was this sort of demand that first attracted Mrs Keethanjali Prakaash, 27, to buy an executive maisonette at Serangoon North.
Having recently tied the knot, the first-time house buyer and her husband made the decision to buy the unit, which had reached its 35-year mark, in the region of S$600,000.
"We were looking around for quite a bit and we finally settled here because it's near my parents' house and it's also a really lovely neighbourhood with plenty of shops and other amenities nearby," she said.
When asked about her flat's future resale options, she said that given the rarity of executive maisonettes, it will always offer a premium for buyers especially for large families looking for bigger spaces. The government has stopped building executive maisonettes since 1995.
"The housing market in Singapore is always changing and you never know what to expect - what was relevant 10 years ago isn't now and the same goes for the next few years ahead. What's important is living in a house that is conducive and comfortable for your family, that's the only thing you can really control."
Oops. Lease expiry was never a problem until Lawrence Wong brought it up last year (Mar 24). Then suddenly it was.
Personally, I think HDB will have to extend the lease by 50 years at least due to the high number of expiring HDB lease within the same time frame. However, the Government is purposely quiet on this issue now because it fits in their agenda to force HDB prices down.
It is not well known, but there are loan restrictions once a HDB flat has less than 60 years lease remaining:
Can use CPF only if age + remaining lease >= 80 years
No CPF can be used if remaining lease < 30 years
Max CPF = remaining lease when owner turns 55 / remaining lease at point of purchase
Wow.
Also, banks will typically loan until 35-years lease. In other words, no bank loan if the lease is shorter than that. Also, if the lease has 50 years left, you can only take a 15-year loan.
Let's see who still dare to buy old properties. :-O
What this means is that once a property has less 60 years lease left, it should (i) have a marked discount (maybe 20%?), (ii) start to depreciate (linearly?) yearly.
Wind of Change
May 2018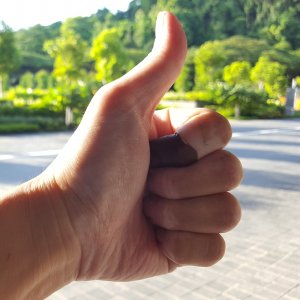 First transfer of power since Malaysia's independence (1957).
The people has spoken. Najib is too scandal-ridden.
Two other factors that greatly increase the opposition's chances:
For the first time in history, the major opposition parties (other than PAS) banded together. Unity is strength
Dr Mahathir
Najib was still expecting the rural Malays to support him, but they did not. It was their swing that made the difference. I attribute it to cost-of-living (GST) and Dr Mahathir.
Mission accomplished?
PS: now is the best time for Najib to find out who are his real friends. :lol:
Go back save my country!
May 2018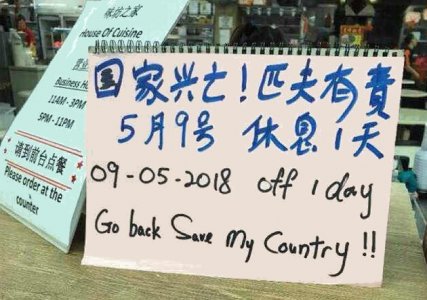 Country in ruins! I have duty, 9th of May, rest for a day.
So you want to design an eyepiece?
May 2018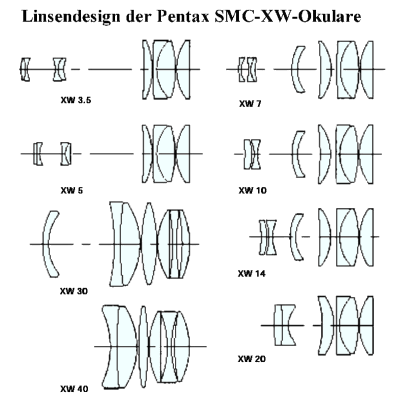 The Pentax SMC XW eyepieces. Introduced in 2003. Designed for day-time spotter scopes, but are also excellent for astronomical use. 70 degrees FOV. 20mm eye-relief. Weatherproof body.
Minimize Rectilinear Distortion (RD) at the expanse of Angular Magnification Distortion (AMD) and Field Curvature (FC). 14mm onwards suffer from noticeable FC.
The 2" eyepieces — 30mm and 40mm — were discontinued in 2013. 3.5mm and 5mm EPs were discontinued in 2016.
We can see the common design pattern: a mostly identical main lens group with a smaller lens group for magnification and correction.
The 3.5mm and 5mm EPs have the same main lens group. The 7mm, 10mm and 14mm EPs are the same, but with different thickness and an additional corrector lens. 20mm EP has a yet thicker lens.
The 30mm and 40mm EPs have a totally different design. Both have the same basic design, but the proportions are different.