As good as Jupiter gets
Apr 2018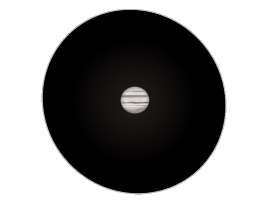 This is, believe it or not, a pretty realistic sketch of Jupiter. I see something close like this, except smaller and less detailed. O_O The image through my viewfinder is slightly smaller at 170x (1500mm / 8.8mm) whereas this looks like 300x. At 272x (1500mm / 5.5mm), Jupiter starts to get fuzzy on my scope already.
However, I believe this is within reach of my 5" scope and use it to judge how good the seeing is and how well the optical train performs.
It's really cloudy tonight
Apr 2018
My first post on Cloudy Nights, with some grammatic correction:
I just started planetary observations with my 127SLT and this thread resonates pretty strongly with me. :-)
I read up quite a bit on magnification and eyepieces before I upgraded my stock eyepieces, and I also wanted to buy just once, so I went for the highest tier that I was willing to spend on: Explore Scientific 82 degrees.
When I popped in the ES 8.8mm EP to view Jupiter, my first reaction was, "wow, my stock 9mm Kellner eyepiece is pretty good!" :lol:
And after viewing for a short while, I had to chuckle. After telling myself I would settle for nothing less than 82 degrees FOV (since ES is good and affordable, why not?), I found that I didn't really like it that much, mainly due to the short eye relief. So I backed off and saw maybe 60 – 70 degrees only. And that's fine for planetary observation. It was then that I realized the stock 9mm EP could show Jupiter with its 4 moons at the same time with its mere 45 degree FOV. It's tight, but good enough for me.
The third surprise was magnification. After 170x (8.8mm), I tried 223x (6.7mm), then 272x (5.5mm [11mm / 2]), then 341x (8.8mm / 2), then finally 448x (6.7mm / 2), using the ES 2x Focal Extender. The last two were somewhat dim (0.37mm and 0.28mm exit pupil), blurry and extremely difficult to focus, but I was surprised floaters weren't that bad and seeing was so good. It's due to my latitude (1.3521° N) — Jupiter is near zenith — and being surrounded by sea. I believe 223x already shows as much detail as my scope can give, but this makes me want to try a bigger scope that can support 400x magnification.
Where do I go from here for planetary observations? One, Ortho. :-D Two, binoviewer! :lol:
It took almost a week for my account to be approved, as the administrator thought I was a spambot. :duh: My second post:
I see that you are at 25.4052° N, beside the sea and desert? That would account for good seeing. But 900x? That sounds out of this world. :-D
Jupiter shimmers sometimes at 448x (didn't see it at 341x), so that is about the max at my location, regardless of the size of the scope.
As sg6 mentioned, it is good to use your existing equipment — to figure out what you like and what you don't — and determine the next course of action.
I had not intended to get an Abbe Ortho eyepiece, but I felt there was still something left on the table, so will give it a try. Also, since I found seeing was so good, I decided to opt for something highish, i.e. 7mm F.L. (214x) .
This guy just wants to use as high magnification as possible. All newbies do that. :lol:
Abbe Ortho eyepieces
Apr 2018
KSON (开信) Ortho
| | F Len | Deg | Lens | Wt | Eye relief | Price |
| --- | --- | --- | --- | --- | --- | --- |
| 13115 | 4.8mm | 46° | 4/2 | ? | 4.2mm | ¥210 |
| 13114 | 7.7mm | 46° | 4/2 | ? | 6.5mm | ¥210 |
| 13113 | 10.5mm | 46° | 4/2 | ? | 7.2mm | ¥210 |
| 13112 | 16.8mm | 46° | 4/2 | ? | 15.5mm | ¥220 |
| 13111 | 24mm | 46° | 4/2 | ? | 20mm | ¥220 |
OEM for University Optics (UO) Super Abbe series.
This is budget-class Ortho and by all accounts, its build, coating and image quality are a notch below other Orthos.
Fujiyama HD OR
フジヤマ. By Kokusai Kohki. The original line was discontinued for a while around 2012 – 2013 (earthquake in Japan, shortage of raw material, death of sole lens maker), then resurrected as Fujiyama.
| | F Len | Deg | Lens | Wt | Eye relief | Price |
| --- | --- | --- | --- | --- | --- | --- |
| 1004 | 4mm | 42° | 4/2 | 60g | 3.4mm | ¥519 |
| 1005 | 5mm | 42° | 4/2 | 60g | 4.0mm | ¥519 |
| 1006 | 6mm | 42° | 4/2 | 60g | 4.9mm | ¥519 |
| 1007 | 7mm | 42° | 4/2 | 60g | 6.1mm | ¥499 |
| 1008 | 9mm | 42° | 4/2 | 60g | 7.6mm | ¥499 |
| 1009 | 12.5mm | 42° | 4/2 | 80g | 10.4mm | ¥499 |
| 1010 | 18mm | 42° | 4/2 | 100g | 15.2mm | ¥499 |
| 1011 | 25mm | 42° | 4/2 | 120g | 22.2mm | ¥499 |
OEM for UO HD series and Baader Genuine Ortho (BGO) series.
This is the minimum acceptable standard for Ortho. Cheaper ones are not good enough that there is no point getting them. More expensive ones are very slightly better, but they cost at least double the price. :sweat:
They are made in Japan. The list price is 9,800 yen (US$91.40), but a Japanese price chart show they are discounted by 20% (7,800 yen) — introductory price? I only found one TaoBao seller with stock (price as above)...
Takahashi MC Abbe
高橋.
| | F Len | Deg | Lens | Wt | Eye relief | Price |
| --- | --- | --- | --- | --- | --- | --- |
| TKA00700 | 6mm | 44° | 4/2 | 70g | 4.8mm | ¥900 |
| TKA00701 | 9mm | 44° | 4/2 | 80g | 7.5mm | ¥900 |
| TKA00702 | 12.5mm | 44° | 4/2 | 90g | 10mm | ¥900 |
| TKA00703 | 18mm | 44° | 4/2 | 110g | 15mm | ¥980 |
| TKA00704 | 25mm | 44° | 4/2 | 140g | 22mm | ¥980 |
| TKA00705 | 32mm | 44° | 4/2 | 150g | 28mm | ¥1,100 |
Suspected to come from the same assembly line as Fujiyama Ortho eyepieces, but built to higher spec.
Teasing out details
An online poster ranks exceptional planetary eyepieces in tiers:
Singlet, Supermono, Pentax XO, ZAO (Zeiss Abbe Ortho)
AP-SPL, CZJ (Carl Zeiss Jena), Pentax SMC Ortho
Brandon
UO HD, BGO, Meade RG (Research Grade)
UO HD is lowest on the totem pole... :sweat:
Phasing out old bikes, carrot and stick
Apr 2018
News: Owners of older motorcycles to get up to $3,500 to deregister vehicles
Date: 6 Apr 2018. Source: ST.
To improve air quality, the National Environment Agency (NEA) is offering an incentive of up to $3,500 for owners of older and more pollutive motorcycles to deregister their vehicles over the next five years.
In a media release on Friday (April 6), NEA said all owners of motorcycles registered before July 1, 2003, are eligible for the incentive if their vehicles have a valid 10-year certificate of entitlement (COE) as of April 6 this year, and are deregistered on or before April 5, 2023.
About 27,000 motorcycles are eligible, said the agency.
The incentive scheme does not apply to owners of motorcycles on the five-year non-renewable COE, or the Classic, Vintage (Restricted), and Revised Vintage Vehicle Schemes as of April 6 this year.
Older motorcycles will also have to meet tighter in-use emission standards from April 6, 2023, and will no longer be allowed on the road from July 1, 2028, unless they are on the above schemes.
NEA said the incentive is made up of two components. The owner of an eligible motorcycle will get $2,000 if the vehicle is deregistered within the next five years. If the motorcycle's COE is not renewed on or after April 7 this year, the owner will receive an additional $1,500 upon its deregistration.
The owner will also get a rebate for the unused COE period, upon its deregistration.
NEA said these incentives were introduced to decrease the amount of carbon monoxide and ozone released into the air, as they are known to impair respiratory functions. Carbon monoxide is also known to be toxic in high concentrations.
While motorcycles make up just 15 per cent of vehicles in Singapore, they contribute to more than 53 per cent of carbon monoxide emissions from vehicles.
Older motorcycles registered before 2003, when stricter emission standards kicked in, make up around 20 per cent of the motorcycle population here but contribute to about 40 per cent of carbon monoxide emissions by all motorcycles, NEA said.
Owners of eligible motorcycles will receive a letter from NEA by the end of April. Owners can also log in to www.onemotoring.com.sg to check the first registration dates of their motorcycles.
27,000 out of 141,304 bikes (end 2017) are before 2003 (more than 15 years).
Carrot: $3.5k to deregister bike.
Stick: in July 2028, bikes registered before July 2003 will not be allowed on the road, period, unless they are on 5-year non-renewable COE, classic or vintage vehicle scheme. This is pretty draconian.
NEA waxes on pollution, but if they make any real observation, they will find that there are very few old bikes on the road — they are not used as daily transport. LTA just wants the old bikes gone, their COEs recycled for new bikes.
This is very typical of Singapore. Land is scarce, so old buildings have to make way for new. There is no room for nostalgia.
Simple eyepieces
Apr 2018
I'm quite surprised with my Kellner 9mm eyepiece that I wonder, are there any good Kellner eyepieces out there?
Well, there used to be, but there are none now. (You can still hunt them down on the used market.)
The reason is that it is completely outclassed by modern Plössl (普罗索) design in every way: same four air-to-glass surfaces but poorer optical quality (due to three glasses vs four), lesser eye relief (0.5x F.L. vs 0.7x), narrower FOV (45° vs 50°) and does not work well with fast scopes (up to f/7 vs f/5).
(Note that modern "Plössl" design just means 4/2 symmetrical design.)
Kellner design also suffers from ghosting for bright objects, such as planets. I do not know if this is due to poorer coatings or inherent lens design.
Today, Kellner (凯涅尔 or 凯尔纳?) eyepieces are relegated to bundled-eyepieces with telescopes. They are cheap to make and they have decent on-axis quality in slow scopes.
Case closed. :lol:
Abbe Ortho
When people say Ortho with the capital 'O', it is taken for granted they mean Abbe Ortho (阿贝无畸变). An orthoscopic eyepiece (无畸变目镜) is simply one that gives good definition and has little geometric distortion.
An Ortho eyepiece has a cemented triplet and a singlet, so it has only four glass-to-air surfaces even though it has four elements. It has very narrow FOV of ~40°, but it has found a niche as planetary eyepiece due to its superb on-axis performance.
Its advantages over Plössl are, its higher contrast as a result of little light scattering due to its lens layout, and better eye relief (0.8x F.L.). This allows shorter Ortho eyepieces down to 4mm.
It is recommended to use on scopes f/7 and slower only.
In the past, before wide-angle eyepieces, Orthos were no big deal. Today (since early-2000s?), there is a renaissance of sorts. People started to look for specialized designs that can beat modern-day ultra-wide angle designs for specific applications.
Abbe Ortho is one of them. Today, its reputation is not just from its lens design, but also its execution: glass purity, polish and coating. Abbe Ortho does not automatically win over Plössl.
Monocentrics
There is one lens design that is even better than Ortho for planetary observation: the "Monocentric". I quote it because the leading example, the TMB Super Monocentric (SMC), is of another design (modified Zeiss monocentric, in turn based on Steinheil monocentric). Nevertheless, it is a cemented 3-element design, so it has only two glass-to-air surfaces.
Pros: high contrast.
Cons: 30° FOV, sharp only on-axis, field curvature, short eye relief.
For hardcore planetary, double star and DSO observers only. Long discontinued (they weren't very popular), the used price is higher than new price.
Eyepiece @ 25mm
Apr 2018
I claimed that there is a gap between 52° and 68° for 24-ish mm eyepiece. It turns out there is not. Meade (美德) fills in this gap nicely with its HD-60 25mm 60° eyepiece. It weighs 217.7g.
The whole Meade 5000 HD-60 series: 4.5mm, 6.5mm, 9mm, 12mm, 18mm, 25mm. They are all 60° FOV, with 17mm eye relief, supposedly all with 6 lens elements. Meade describes them as Plossl optical design, but they are more likely to be Erfle.
It is noted by online forumers that the shorter F.L. ones are likely to have more lens elements as they incoporate a Symth/Barlow-like element to achieve long eye relief. (This is the only known technique.)
According to online posts, the 6.5mm, 9mm and 25mm EP are excellent. The 4.5mm and 12mm EP are okay (not perfect across entire field). The 18mm EP is the worst.
The 25mm EP costs US$75 at OPT. It is not on sale on TaoBao.
The Celestron (星特朗) X-Cel LX series is a slightly cheaper rebrand: 2.3mm, 5mm, 7mm, 9mm, 12mm, 18mm, 25mm. They have a claimed eye relief of 16mm. Some F.L. are rounded up, but that is not unusual.
(Update: an online poster took apart the X-Cel LX 9mm EP and it is 1-2-1 König design with a 2-element symth lens. The 12mm EP and below should be the same. 18mm and 25mm EP may not have the symth lens or may have a different design altogether.)
The 25mm EP weighs 207.0g and costs US$66 at B&H Photo.
The X-Cel LX eyepieces are sold on TaoBao, but are slightly more expensive, being imports!
Since Celestron is owned by Synta, the eyepieces are probably made by them as well. They are probably cheaper in Taiwan.
If I had learnt about this series earlier, and knowing what I know now, I would have gone for the 6.5mm, 9mm and 25mm EPs as my first upgrade set — if they were cheaper by 25%. They are a perfect match with my 127SLT. The irony is, if I had gotten them first, I would be wondering how much better the ES eyepieces would be. :lol:
As it is now, I'm only interested in the 25mm 60° eyepiece for its light weight. I'm still somewhat interested in the 6.5mm and 9mm EP (I'll pass on the sub-optimal ones), but I have other eyepieces covering these focal lengths. I'll keep them in mind if I see them on sale. :lol:
So many PHD (Private Hire Drivers)
Apr 2018
News: 已有1万7000名私召车司机考获执照 当局提醒司机及时考取
Date: 3 Apr 2018. Source: CH8/WH.
陆路交通管理局去年规定私召车司机必须考取执照才能载客,至今上课考获执照的人数达到1万7000个,占总申请人数约23%。当局也提醒那些在去年7月1日以前提出申请的私召车司机,必须在今年6月底考取执照,否则将不准载客。
陆路交通管理局提供给本台的数据显示,目前约7万3000人提出"私人出租车司机职业执照"的申请,成功考获执照的人超过两成。当中,大约3万4000人是在去年7月1日之前提交申请的。他们拥有一年的宽限期上课考取执照,期间获准载客。如果这些司机在今年6月30日之前没有上课考取执照,7月1日起就不能载客。
陆路交通管理局也说,去年7月1日之后提出申请的司机约1万8000个,这些人至今还没上课及考取执照。他们则没有宽限期,所以现在是不能够载客的。
当局也指出,过去五个月,参加"私人出租车司机职业执照"考试的人当中,及格率约66%,与考取"德士司机职业执照"的及格率相似。
如果发现有私召车司机无牌开车,一旦罪名成立,可面对罚款最高1000元,或监禁不超过三个月,或两者兼施。
Key numbers:
Number of people who has applied for PDVL: 73,000
People who did so before 1/7/2017, so have one year grace period: 34,000
People who did so after, have no grace period, do not have PDVL, hence unable to drive PHV: 18,000
People with PDVL permit: 17,000
Passing rate: 66%
I'm surprised so many people applied for PDVL. 73,000?! Is that like 1 in 8 car owners?
The stats don't add up. 39k people signed up after July last year, and 18k of them do not have the permit, so 21k of them should have? How come this is higher than the number of people with PDVL?
Eyepiece, second thoughts
Mar 2018
I'm quite surprised with some of my actual experience with ES eyepieces.
Light 24mm choice?
The ES 24 68° eyepiece feels heavy at 330g. It is medium-weight — heavyweights start at 500g — but it is an outlier among my light eyepieces.
As such, I don't mind trading a bit of FOV for bulk/weight. Is there a 24mm 60° eyepiece? The answer is no. The next step down is 25mm 52°. There is a dearth of choices around 24mm, maybe because everyone goes for 24mm 68° for the max FOV in 1.25".
Explore Scientific has a 26mm 62° eyepiece, but it is equally heavy and not as good.
Full Moon?
I'm surprised the ES 11mm 82° eyepiece could not show a full view of the Moon. I guesstimate that it shows 90% of the Moon. According to formula, the eyepiece has true field of 0.60° (AFOV / mag = 82° / (1500 / 11)).
Googling around, I found how to calculate the size of the Moon. The angle subtended (in radians) = diameter of Moon / distance to Moon = 3,476 km (equatorial diameter) / 360,991 km (distance at Perigee [closest approach]) = 0.00963 radian. Converting to degree: 0.00963 radian * 180 degree/pi = 0.55 degree = 33.1 arc minute (60 arc minute/degree)
The Moon is 369,106 km away on March 26. I subtract 1,737 km (radius of Moon) and 6,378 km (radius of Earth) to get the surface-to-surface distance.
(This means that at its "Super Moon" distance of 356,565 km on 1st Jan 2018, the Moon is 0.57°.)
0.55° is still smaller than 0.60°. It should fit. This means the approximate true field of the ES 11mm 82° is off.
I was attracted to the ES 11mm 82° eyepiece in spite of its relatively low magnification on my scope (136.4x) for four reasons: it is supposedly the best of the ES 82° eyepieces, it has close to 1mm exit pupil on my scope, it gives the max usable magnification when barlowed (273x) and it is the shortest 82° eyepiece — or so I thought — that can show the full Moon! Well, I still like it. :lol:
I probably need 14mm 82° to fit the full Moon. Or maybe I'll have better luck at Apogee (furthest approach). The Moon will be 404,144 km away on April 6. It works out to be 0.503°.
Also, it is noted that we need additional space to frame / observe full disk of Moon comfortably. Suppose we want 25% filler, that means a true field of 0.70° (0.56° * 1.25). Working backwards, the required magnification = AFOV / true field = 82° / 0.70° = 117x. Eyepiece focal length = scope focal length / magnification = 1500 / 117x = 12.8mm.
Seeing
Seeing is surprisingly good. Jupiter at 170x (8.8mm) is a piece of cake. No issue at 223x (6.7mm) either. 272x (5.5mm) is shaky and is slightly dim, but is still pretty okay. 341x (4.4mm) is dim, blur and very shaky, but still borderline viewable.
OTOH, 448x (3.35mm) is too high. It is very difficult to focus, and even then, Jupiter is quite blurred — we have "run out" of magnification. Still, I'm surprised that It is still not too dim — with 0.28mm exit pupil — and floaters aren't that bad, but it is not enjoyable. I finally see shimmering, but only sometimes.
Many online posters say they can only achieve 180x – 220x magnification for Jupiter. How come I can go so much higher? They are in mid-latitudes, where planets appear relatively low in their sky. Singapore is just 1.3521° N, so planets pass by directly overhead in the sky. It is also next to the sea (more stable atmosphere).
Due to the mount, the mere process of focusing causes the whole view to shake. At high magnification, it is a challenge to determine we have reached focus with the shaking image!
Some scopes now advertise their max magnification as 3x aperture-in-mm. It works out to be 381x for my scope. Judging from my experience, 2x is the real useful limit, whereas 3x — capped by atmospheric seeing — is the max somewhat-viewable limit with compromise in quality and without additional details, for people who prefer size over quality.
If 400x is the cap by atmospheric seeing, a 180mm f/15 scope can achieve it with a 6.7mm eyepiece (403x) giving 0.45mm exit pupil. A 8" f/10 scope can achieve it with a 4.7mm eyepiece (426x) giving 0.47mm exit pupil.
High power eyepieces
I found that 60 – 70° is sufficient for high power. We are focusing on just one object in the middle of the viewport. All the wide-angle view reveals is empty space. In fact, it should be okay to go as low as 40°, but I'm not ready to take that step yet. :lol:
Lower FOV eyepieces are smaller, light and cheaper! Although they are not as well-corrected, they are still sharp on-axis and they work well on slow scopes (i.e. f/10 and slower). They might even be more constrasty due to less glass.
Also, I can't take in more than 60 – 70° when I'm wearing glasses. (Ultra-wide angle eyepieces typically have short eye relief.)
Though, I must say wide-angle view makes it easier to track the planet, even with a guided mount. :-P (My tracking is inaccurate because I only do a "one-planet" alignment.)
OTOH, simple high-power eyepieces have extremely short eye relief. It is suggested to barlow 10 – 20mm eyepiece instead for better eye relief.
Binoviewing
Mar 2018
A pair of binoculars is recommended for wide-field observation. After a while, you will wonder, is it possible to view through a telescope with both eyes?
The answer is yes, with a binoviewer. Stick it into the star diagonal, put two identical eyepieces on it, and voila!, binoculars on steroids.
And this is where everything goes downhill. :lol:
First, the cheapest binoviewer I can find, putting TaoBao aside for now, is the Celestron Stereo Binocular Viewer at US$166. Yes, this is just the binoviewer. Suppose you want the widest field in 1.25", so let's use the high quality "value-for-money" Explore Scientific 24mm 68° eyepiece at US$140. The total cost is US$446. O_O And this is just one pair of eyepieces! You need another pair for high-power viewing, right? :-D
There are a number of things wrong above, but before we correct them, let's consider the William Optics binoviewer package at US$268. It comes with two 20mm 66° eyepieces, so it is usable out-of-box. It also comes with a 1.6x barlow nosepiece, giving a high-ish 12.5mm view. No wonder it is highly recommended.
Just as you thought you found the sweet spot, reality strikes again.
It turns out 20mm 66° is the longest/widest eyepiece you can use in the W.O. binoviewer due to its 20.2mm clear aperture. In fact, this is true of all cheap binoviewers. All of them have the same physical design. If you want to use a 24mm 68° eyepiece, the clear aperture must be at least 26mm (with some possible vignetting). Such a binoviewer is 4-digits. :sweat:
So, just enjoy the 20mm 66° view? Not so fast. The binoviewer extends the light path by 100mm (depending on the binoviewer). This has different implication for different types of telescope.
For refractors and reflectors, generally, there is insufficient focus travel. This is where the 1.6x barlow nosepiece comes in — it diverges the light cone so that the image comes to focus further away. The result is that the longest usable F.L. is 12.5mm! Forget about wide field. (Bino-friendly refractors have a removable tube so that the binoviewer do not introduce additional light path.)
For Cassegrain-based telescopes, a barlow lens is not needed. However, because focusing is achieved by moving the primary mirror closer to the secondary mirror, the light cone is steeper and it comes to focus further away, i.e. the focal length is increased. I don't see a definite answer, but it is 1.5x to 3x of the binoviewer's light path. Also, the steeper light cone means some light may miss the secondary mirror and hence decreases the effective aperture. This reduces brightness by roughly 20% — unless the primary mirror is undersized to begin with. (The primary mirror has to be 7% bigger than the corrector lens to catch the full light cone.)
You can try to shorten the light path as much as possible. Shorter light path means less aperture loss. Or use a barlow lens.
For a 1500mm F.L. scope, the lowest magnification would be 90x (1800 / 20) instead of 75x (1500 / 20). Or, with a 1.6x barlow lens, 144x (1800 * 1.6 / 20). Basically, forget about wide field. :lol:
Okay, so let's just use binoviewer for planets. They could use the "free" power.
Hold your horses. :lol:
A binoviewer splits the light into two eyepieces, remember? That means each eyepiece is only receiving 50% of the light. No problem, the brain will integrate it back. It turns out that, objectively, the final image is only 70% as bright. :-O
This means that, especially for a smaller scope, we have to use slightly lower magnification in order to "restore" the brightness. So, instead of using 6.7mm to achieve 224x in cyclops-mode (1500 / 6.7), we use 8.8mm to achieve 205x in bino-mode (1800 / 8.8). The good news — finally! — is that our brain feels that the image is both bigger and brighter than compared to one-eye viewing, so the effective loss is minimal.
Finally, it is advisable to use longer F.L. eyepieces and barlow the binoviewer than to use high-power shorter F.L. eyepieces. Cheap binoviewers often have slight mis-collimation between the two eyepiece holders and it is exacerbated at higher magnification, resulting in difficulty in merging the image. This means we want to use 12 – 20mm eyepieces.
Do we need premium eyepieces? The surprising answer is no. First, we don't need ultra wide angles. 100° is way overkill. 82° is too — though some people claim they can take in the entire view. 70° is optimal (close to human limits), but 60° is fine, or even 52°. Next, our brain is more forgiving in two-eye operation (goodbye, floaters!), so even run-of-the-mill eyepieces work well. Third, if using barlow lens, it reduces optical issues on the edge of the view.
Finally, using not-so-wide angle eyepieces also help with Inter-pupillary distance (IPD) and "nose relief". Ultra wide-angle eyepieces are very thick, two of them side-by-side may exceed the IPD (typically around 65mm for guys) or block the nose. Heavy eyepieces may also introduce balance issues (the viewing side is very heavy) or stress the star diagonal.
Cheaper on TaoBao?
AFAIK, all made-in-China binoviewers have the same design. Sky Rover has two for sale. A low-end one at ¥580 (S$121) — and it comes with a 1.85x and a 3x barlow nosepiece! And a standard one at ¥850 (S$178) with a case. The barlow nosepieces are sold separately; 1.6x at ¥140 (S$30), 2x at ¥150 (S$31).
Binoviewers are not that cheap.
Prism?
Any half-decent binoviewer will boast that it uses BaK-4 prisms. But the strange thing is, high-end Denkmeier binoviewer uses BK7 prism! In fact, BK7 prism is recommended in a binoviewer as it has lower dispersion, so there is less chromatic abberation. But the world is sold on BaK-4 as the all-round better prism.
Worth the effort?
For planetary viewing, it is not difficult to use a binoviewer, just need to select the eyepieces properly.
For wide field, it is a whole different thing. Some foreplanning is needed to maximize true field. And need to pay a lot more to achieve the same wide field as single-eyepiece. And then it is still compromised — the inherent reduction in brightness means objects at the edge of visibility cannot be seen.
But is it worth it? Some people say that the view through any binoviewer with half-decent pair of eyepieces is better than any single premium eyepiece. Bigger and more expensive scope and eyepiece will only give you more of the same, but a binoviewer will show you something different, and some say, something magical. There is a 3D feel to it. So yes, I think it is worth it.
(Note: almost everything in this article is based on what I read in forums. I have no personal experience with a binoviewer... yet. :-D)
Sky Rover eyepieces
Mar 2018
There are many OEM eyepieces for sale on TaoBao. They are cheaper, but they are no bargain. They go for roughly 75% of their US branded counterparts. (Imported eyepieces are typically more expensive than in US.)
Sky Rover (天虎) is the easiest to find and is the most complete, probably because the manufacturer has an official shop. Sky Rover, what? It is the house brand of Kunming United Optics, who is the OEM for several other brands.
They have five series, each one almost double the price of the last. They are almost always priced at RRP, probably due to price control.
Wide Angle (WA)
| | F Len | Deg | Lens | Wt | Eye relief | Price |
| --- | --- | --- | --- | --- | --- | --- |
| WA #21650 | 8mm | 60° | 4/3 | 45g | 9mm | ¥90 |
| WA #21651 | 12mm | 60° | 4/3 | 55g | 10mm | ¥90 |
| WA #21652 | 17mm | 60° | 4/3 | 85g | 16mm | ¥115 |
| WA #21653 | 20mm | 65° | 4/3 | 85g | 20mm | ¥115 |
The whole set costs less than one ES eyepiece. :sweat:
Super Wide Angle (SWA)
| | F Len | Deg | Lens | Wt | Eye relief | Price |
| --- | --- | --- | --- | --- | --- | --- |
| SWA #21735 | 10mm | 70° | 5/4 | 67g | 10mm | ¥220 |
| SWA #21736 | 15mm | 70° | 5/4 | 83g | 13mm | ¥240 |
| SWA #21737 | 20mm | 70° | 5/4 | 137g | 16mm | ¥260 |
| SWA #21738 (2") | 26mm | 70° | 5/3 | 295g | 20mm | ¥340 |
| SWA #21739 (2") | 32mm | 70° | 5/4 | 475g | 24mm | ¥370 |
| SWA #21740 (2") | 38mm | 70° | 5/3 | 715g | 28mm | ¥440 |
Are these the same as the W.O. SWAN series? If so, they are quite well-regarded for slower scopes (i.e. f/8 and slower).
Seems exact fit for BOSMA SWA eyepieces.
Ultra Flat (UF)
| | F Len | Deg | Lens | Wt | Eye relief | Price |
| --- | --- | --- | --- | --- | --- | --- |
| UF #22583 | 10mm | 60° | 5/4 | 80g | 16mm | ¥268 |
| UF #22580 | 15mm | 65° | 8/5 | 136g | 16mm | ¥450 |
| UF #22581 | 18mm | 65° | 8/5 | 207g | 20mm | ¥480 |
| UF #22582 | 24mm | 65° | 8/5 | 330g | 29mm | ¥780 |
| UF #22585 (2") | 30mm | 70° | 9/5 | 550g | 30mm | ¥990 |
The UFs aren't cheap. Apparently commissioned by APM Telescopes just last year for scopes up to f/5.5. The design includes a 2/1 Smyth lens (to flatten field curvature and extend eye relief). The 24mm EP, even though it has only 65° AFOV, has the largest true field in its class due to its virtual 30.2mm field stop.
Very nice, but also very expensive. The 24/65° eyepiece is even more expensive than the ES 24/68° eyepiece. :-O
Ultra Wide Angle (UWA)
| | F Len | Deg | Lens | Wt | Eye relief | Price |
| --- | --- | --- | --- | --- | --- | --- |
| UWA #21820 (2nd gen) | 4mm | 82° | 7/4 | 185g | 12mm | ¥780 |
| UWA #21821 (2nd gen) | 7mm | 82° | 7/4 | 192g | 12mm | ¥780 |
| UWA #21822 (2nd gen) | 16mm | 82° | 7/4 | 207g | 12mm | ¥860 |
| UWA #21823 (2") | 28mm | 82° | 6/4 | 975g | 18mm | ¥1,690 |
The 4, 7 and 16mm eyepieces are better known under the discontinued William Optics (景德) UWAN series. They have good reputation, but they are outclassed by ES when the latter came out. What's more, they are more expensive and have very little eye relief.
Xtra Wide Angle (XWA)
| | F Len | Deg | Lens | Wt | Eye relief | Price |
| --- | --- | --- | --- | --- | --- | --- |
| XWA #21970 | 3.5mm | 110° | 8/6 | 662g | 15mm | ¥1,499 |
| XWA #21971 | 5mm | 110° | 8/6 | 664g | 15mm | ¥1,499 |
| XWA #21972 | 9mm | 100° | 9/6 | 830g | 15mm | ¥1,499 |
| XWA #21975 | 13mm | 100° | 9/6 | 480g | 13mm | ¥1,599 |
| XWA #21973 (2") | 20mm | 100° | 9/6 | 852g | 15mm | ¥1,599 |
¥1,500 = US$236. Not cheap, but ES 100° eyepieces start at US$415. Now they don't look so expensive, do they? :lol:
A set of very nice eyepieces
Mar 2018
I had my eyes on Explore Scientific eyepieces after reading numerous reviews. They are supposed to offer Tele Vue-like (i.e. excellent) performance at a budget price, but "budget" is relative — they are still pretty expensive. Then I discovered they are priced quite decently on TaoBao (in the ballpark of their old US$99 price point), so I ended up with the following :sweat::
| | F Len | Deg | Lens | Wt | Eye relief | Price | Mag* | True field* | Exit pupil* |
| --- | --- | --- | --- | --- | --- | --- | --- | --- | --- |
| Explore Scientific 68° 24mm | 24mm | 68° | 7/4 | 329g | 18.4mm | US$140 | 62.5x | 1.09° | 2.03mm |
| Explore Scientific 82° 11mm | 11mm | 82° | 7/4 | 279g | 15.6mm | US$160 | 136.4x | 0.60° | 0.93mm |
| Explore Scientific 82° 8.8mm | 8.8mm | 82° | 7/4 | 255g | 15.6mm | US$160 | 170.5x | 0.48° | 0.75mm |
| Explore Scientific 82° 6.7mm | 6.7mm | 82° | 7/4 | 228g | 15.7mm | US$160 | 223.9x | 0.37° | 0.57mm |
Also, a Explore Scientific 1.25" 2x Focal Extender, 255g, US$120. With it, I am well covered from 11mm to 5.5mm (near the max for my scope), or even 4.4mm if I were to push it.
| F Len | Deg | Mag* | T field* | E pupil* |
| --- | --- | --- | --- | --- |
| 5.5mm | 82° | 272.7x | 0.30° | 0.47mm |
| 4.4mm | 82° | 340.9x | 0.24° | 0.37mm |
| 3.35mm | 82° | 447.8x | 0.18° | 0.28mm |
The next step, 3.35mm, pushes it too far. The image is fuzzy, dim and very shaky. The scope can magnify up to 254x (2 x aperture in mm), anything above is mere simple enlargement at considerable expense of brightness.
At first, I only intended to buy the 11mm, 24mm and the 2x barlow lens, but the 24mm eyepiece was temporarily OOS (and the 11mm eyepiece was stuck in the same order!), so I accelerated my plan to fill in the gap between 11mm and 5.5mm.
There is a huge gap from 24mm to 11mm. One reason is that the ES 14mm 82° eyepiece is described as worst of the lot with significant field curvature, though I wonder if it shows up on a slow scope. The ES 16mm eyepiece is 68° FOV only — with just 11.9mm eye relief! The other reason is that there is simply no need to fill in the gap. Low-power (~50x) is used to observe star field, high-power (>150x) for planets, in-between is not meaningful*.
Field-of-view
When I was buying the ES 6.7 and 8.8mm eyepieces, I was debating if I need 82° FOV. They are heavier, more bulky and expensive. At high-power, you are focusing on the object, typically a planet or double star. Even with such wide FOV, the surrounding is typically void black due to high magnification.
It turns out that I can only see around 60° when I wear my glasses (requires ~20mm eye relief), so the extra FOV is "wasted". However, I expect to get better with more viewing. :lol:
The extra FOV is useful in the initial positioning, though. I'm sometimes able to get the target planet in the view immediately using the RDF (Red Dot Finder) without having to switch to a low-power eyepiece and centering it. That's pretty convenient.
Even though the ES 8.8mm and 24mm eyepieces replace the bundled 9mm and 25mm Kellner eyepieces, I suspect I may still use them sometimes — but it is the opposite from what you expect!
The ES 24mm eyepiece is very bulky! It is described as a "hand grenade", which is an apt description given its shape. Despite so, I foresee using it for its wide field. The bundled 25mm EP, although said to be decent, has too narrow a true field to be useful for anything other than viewing the Moon.
The ES 8.8mm eyepiece is okay in terms of physical size, but after viewing through it, I realized the puny 9mm EP works well enough too. It is often ridiculed for its poor image quality, but I don't see it. Maybe I'll be able to tell them apart with more viewing. :lol: The planets show up sharp and detailed. It has a much smaller FOV, but it is just enough to show Jupiter with its four main moons — I got to press my eye against the eyepiece to see the outermost moon.
One too many?
A minimal set is two eyepieces, barlow lens is optional. Usually people recommend getting just three eyepieces for a start (for low, medium and high power). I got four with a barlow lens! O_O
In hindsight, a better selection would be 8.8mm and 24mm — basically replacing the bundled EPs! I chose 11mm over 8.8mm to avoid that and because I thought the 9mm was close to the limit of the scope — but it was not so. The 11mm eyepiece is neither here-nor-there. It is still a good eyepiece, though. :lol:
What's next?
My eyepiece set is complete for this scope. I only need new eyepieces for a new scope or binoviewer. ;-)
Who am I kidding? :-D I'm on the outlook for a 16 – 20mm eyepiece, probably 70° FOV will do. This range is problematic, even the high-end eyepieces have compromises — field curvature or tight eye relief. This range is more for binoviewer, so I'm not in any hurry. (Binoviewer is one big can of worms. :-O)
I may also get a cheap set of wide-field (60 – 70°) eyepieces. The difference in price is staggering. A low-end 60° eyepiece is just S$20. A well-designed 65° eyepiece is S$100! :-O
Astronomy talk, choosing telescope
Mar 2018
"Which Telescope Is Best For Me?", 2nd March.
Synopsis:
Given the huge variety of telescopes readily available in the market — ranging from toy telescopes to advanced or semi-professional telescopes — this talk attempts to make sense of all these by looking at the advantages and disadvantages of the different types of telescopes and telescope mounts. This will provide a useful guide in helping the novice amateur astronomers to answer their question of "Which telescope is best for me?"
I attended this talk two weeks ago with a small roomful of would-be enthusiasts. The speaker sort-of delivered as far as the subject matter was concerned, although it was a bit dry. He covered mainly the telescope designs and not enough on the mounts and the starter telescope kits.
But I sensed a disconnect between the speaker and the audience, due to lack of local context. The question at the back of my mind were,
What can I observe?
When are the planets visible?
Looking for good observing sites (e.g. unblocked by high-rise buildings)
Also, expectations. First, Singapore is one of the most light polluted places in the world. Expect to see only the brightest Celestial objects (Moon, planets and a handful of bright stars). Second, it depends on the weather. Singapore is frequently cloudly. Cloud = no observation. Third, timing. Not all Celestial objects can be conveniently observed from 8 – 11 pm. Sometimes you got to wake up at 4 – 5 am. Also, they are seasonal. Miss it this year? Wait for next year. Fourth, you need a view of a reasonably-large patch of the sky within 5-minute walking distance of your home — carrying the telescope, mount and accessories! This is the convenience factor. Fifth, it will never look as good as photos. Planets appear pretty small even at 300x magnification. Nebulas are colorless.
The speaker ends his talk with the cliche saying, "the best telescope is the one you use most often." This is true, but it does not help me choose one.
In the end, I would say I find the talk informative for a lay person, but not sufficiently useful, because I still do not know how to choose a starter telescope and what I can see with it.
The Maze Runner films
Mar 2018
I finally watched the first two films last month. TL;DR: they are better than the books. :lol:
The Maze Runner is a close-enough adaptation. It tells a cohesive story in 113 mins. But most of the cast get very little screen time. And some plot points are 'blink-and-you-miss-it' type. Many people prefer the book, but I like the changes the film makes. They improve the story — mostly. I've always dislike the psychic link between Thomas and Teresa. Not there in the film.
One thing I dislike is the transition between scenes. Often, the current scene ends on a "cliffhanger" note because something interrupts it and we go to the next scene, and Thomas and/or the audience is kept in the dark. This is done way too many times.
Another thing I dislike is the camera work when the Grievers show up. Very short disjointed takes that was fashionable then. You cannot follow the action at all. It is supposed to be frightening and suspenseful. I can't tell what is going on at all.
The Scorch Trials differs quite a bit from the second book, but I think that makes it better! It certainly makes more sense, has less reliance on deus ex machina and no super-natural powers. There is actually a cure and it has to be harvested from the Immunes. I like that.
My biggest issue is the ease Thomas and his gang escaped from the facility. Escape, sure, but to go so far on foot and remain at-large in the open desert? Surely the guards will think to search the nearby abandoned structure first?
The middle part is marred for me because of zombies. I don't like zombies.
I like Teresa staying with the group, though she does not have much presence — like most of the cast. There is an all-girls group, and I like that they have their adventure independent of this film and only show up at the end. I also like the resistance group showing up. I like that they explain Thomas's role before he got "wiped". Teresa's betrayal is believable. I don't really like that the resistance group is just a rag-tag team — they should be much more organized than this — and they are virtually wiped out at the end.
The film feels a little slow at times. No wonder, it clocks in at 133 mins.
Takeaway
The first two films are good enough that I will get the blu-rays when the third film is out. The trilogy box set has been announced at US$50! It'll probably drop to US$30 after a while...
A sad day
3 Mar 2018
1935 to 2018.
"I'm going to take a long sleep tonight.", his last words.
Sadly, I last saw my uncle (伯父) six years ago and we didn't even talk that much. Years apart had left us with very few common topics. When I was young, I looked forward to his annual visits.
My earliest cohesive memories were from 5 years old, in a little town called Kulim. It sure was different back then. Idyllic and carefree.