Board game catch-up 2018
Jan 2018
Ticket To Ride: Nordic Countries (2008) [US$37.13]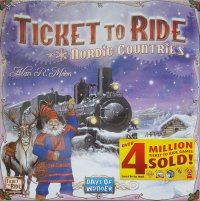 TtR: Nordic Countries is the only game I got for myself in 2017. It is a standalone game for 2-3 players, the train on the cards are covered with snow, and comes with purple and white trains.
I often get the board game itch around December, and because this is winter-themed, it costs the most at that time (~US$45). And it is often out-of-stock in non-winter seasons due to low-print and low-demand. So I've skipped it for a couple of years.
My preferred TtR experience is still the USA base map with the original rules. TtR is a gateway game; keep it simple. I did not get any of the later expansions:
The Heart of Africa (2012)
Nederland (2013)
United Kingdom & Pennsylvania (2015)
France & Old West (2017)
I'm done with TtR. The only thing I want is to pimp the trains. :lol:
Clue – The Great Museum Caper (1991) [US$59.50]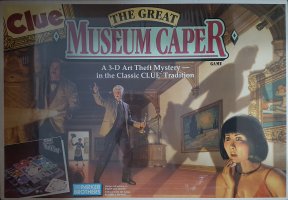 I bought all the Clue variants that I wanted a decade ago, except for this one. It was too expensive. All of them are OOP, but this one commands a premium due to its scarcity and/or better gameplay.
Fast forward a decade. It is still not reprinted (since 1991!) and one of the designers posted on BGG recently that they shelved plans to do so since their artist passed away last year. Oh well.
I saw a used copy on Amazon that did not break the bank. More importantly, it is fulfilled by Amazon, which means cheaper International shipping! Ships to Singapore for just US$12.10 (after splitting with Scotland Yard).
Listed as collectible, very good. Actual condition: to be updated.
First look
Box is pretty large and is shrinkwrapped! :-O It is not new old stock (NOS), though. The box is a bit worn and has a small torn at the back. :cry: I'm not a mint box collector, so it is not a big deal.
Ordered on 6/1, shipped on 7/1, received on 15/1.
Scotland Yard: A Compelling Detective Game (1991) [US$29.99]
I have the 2004 regular version. It works, except I've always found the board to be drab. The earlier ones were brighter. Guess what, Ravensburger reprinted it in 2013 and it came with the bright board! (I just found out about it.)
So, get the 2013 version? Well, the gameplay is exactly the same — the rules are streamlined for modern audiences, but you can always use the old ones. Also, I don't like the cover. I prefer the old cartoony one. :lol:
I can't justify buying a copy just for the new board, but I can make an exception for an older version for nostalgia... So, that's what I did. Buy a used copy from Amazon. It is fulfilled by Amazon, hence it costs only US$12.10 to ship to Singapore (after splitting with Clue – TGMC).
I don't know if I bought the 1983, 1991 or 1994 version. They have the same board cover.
Listed as collectible, very good. Actual condition: to be updated.
Avalon Hill Acquire (1999) [EUR 49.99]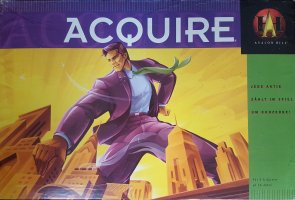 Acquire is one of the classics that age has caught up with since the 90s — it was released in 1964! It does not have shiny bits and the game looks complicated.
The 2008 reprint was a cost-down version using cardboard components. The latest 2016 reprint took cues from the 1999 version: plastic board, tiles and 3D buildings. It is mostly okay, except the board is now 10x10 instead of 9x12 to streamline the game. And that changes everything; I want the original Acquire.
The 1999 Avalon Hill version is still the holy grail where English versions go. Due to that, it is very expensive. The cheapest used copy costs US$140+ on Amazon.
Tried my luck on Amazon.de. It is surprisingly "affordable", probably because it is the German edition.
Shipping costs EUR 14.00.
Listed as used, good. Actual condition: to be updated.
I have the 1993 Schmidt Spiele German edition. It was one of my holy grail a decade ago. But it is unwieldy to bring out. Interestingly, it can be had for cheap on Amazon.de — cheaper than this version. :-O
There is no definitive version of Acquire yet. The problem is that the tiles are very plain. Aesthetics is a big part of the experience nowadays. When the tiles form the hotel, they should take the color of the hotel chain. That would make it very pretty, and the game might keep its appeal to the modern crowd.
First look
It is the German edition. Box is a bit worn, but contents are like-new.
Ordered on 30/12, shipped on 2/1, received on 11/1. Parcel is recycled box.
Hans Im Glück Modern Art (1992) [EUR 14.90]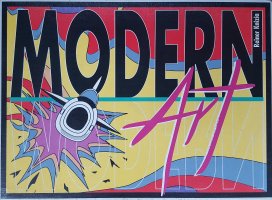 Modern Art is another classic that is more famous than it is popular. It is ugly and the gameplay is a bit abstract. It does not appeal to modern audiences.
The English version was first printed in 1996. I have the ultra-cheap looking 2004 version (though priced normally) and have long looked forward to a better reprint.
It was finally reprinted last year, but the art was changed. I prefer the original art (it is ugly as hell, but that is intentional), so why not go back to the original German edition? It is easily found on Amazon.de.
Shipping costs EUR 20.48.
Listed as used, good. Actual condition: to be updated.
I already have a near mint copy of this version. It was one of my holy grail a decade ago. I buy it again so that I can play with it. :lol:
I don't know if I bought the 1992 or 1993 version, probably the latter. Many Amazon sellers add their items to an existing product listing. These two versions are the same except for the box cover.
First look
I got the 1992 edition. My old one was also the 1992 edition. It looks like the 1993 edition (SdJ nomination and car cover) is more rare?
The box is okay, except for the lightly-crushed edges and a small torn at the back. Contents are like-new. Given my poor humid storage condition, this copy may be in better condition than my older one. :lol:
Ordered on 30/12, shipped on 1/1, received on 12/1. Parcel is thin cardboard, offering almost zero protection.
Processor armageddon
Jan 2018
On the second day of the new year, news broke that an urgent fix will be applied to the Linux kernel. Basically, the kernel will unmap all kernel pages before it returns to user space. The fix is called Kernel Page Table Isolation (KPTI). This has a huge performance hit, anywhere from 5% to 50+%! Average slowdown is reported to be 30%. Microsoft and Apple are also preparing out-of-band fixes to their OS.
Why is this necessary? Kernel pages should already be inaccessible in user space. Or are they?
An AMD engineer was the first to give the details:
AMD processors are not subject to the types of attacks that the kernel page table isolation feature protects against. The AMD microarchitecture does not allow memory references, including speculative references, that access higher privileged data when running in a lesser privileged mode when that access would result in a page fault.
In other words, Intel CPUs can be tricked to read any mapped memory via speculative execution. This is huge, because it basically renders any supposed privilege levels useless. It makes a joke of virtualization.
Cloud computing, where strangers share the same physical CPU? They can steal your private keys. Oops. Surfing the net with JavaScript enabled? It can sniff for your password. Oops. It is that bad.
In the next few days, this exploit is named Meltdown. This affects Intel processors only. It is not known if it affects all Intel processors since 1995 (since out-of-order execution is introduced), or only "recent" ones (e.g. in the past decade) where speculative execution was turned up to eleven.
In typical Intel fashion, it tries to downplay the issue:
Intel believes these exploits do not have the potential to corrupt, modify or delete data.
This is true, but the ability to read private keys and passwords is already most damaging among damages.
And conflate it with another issue:
Based on the analysis to date, many types of computing devices — with many different vendors' processors and operating systems — are susceptible to these exploits.
At the same time, another more general attack called Spectre is described. This targets every modern CPU that uses caching and does speculative execution. This affects all Intel, AMD and many ARM processors. This attack is very fundamental and is harder to defend against, but it is also very slow because it uses timing side-effects to infer the actual data. Meltdown is a pure bug. That impenetrable door that you thought you had? It's unlocked.
What I find amusing is that the Raspberry Pi founder came out to say the Pis is not affected by either exploits. The key reason is that the ARM CPUs they use do not support speculative execution. That is why they are so slow, dude! :lol:
2017 has not been a good year for Intel. This is their second major flaw of the year. Earlier last year, the Intel Management Engine (IME) was revealed to be susceptible to hacking. That was already a huge news because it was an autonomous subsystem that was always running and was present on all Intel processor chipsets since 2008. You can be hacked without knowing it!
Pimp my board game
Dec 2017
I have always wanted to pimp my favourite board games, but I have always put it off because it is a very expensive endeavour. Well, I bought only one board game for myself this year, and am unlikely to buy any new ones any time soon, so I finally decided to go ahead.
I ordered Energy Box Ideal for Power Grid (£32.50) by Stonemaier Games. It is a set of six resource types (28 tokens each). This is a better deal than Power Grid Realistic Resources (only four types, fewer tokens and no box). I don't know why I didn't see this earlier. Actually, I'm surprised it is still in stock — this is a Kickstarter item from 2015. Fingers crossed.
In the original game, coal and oil are wooden cubes. They work, but they are not thematic.
I bought Puerto Rico Realistic Resources (£12.50) even though I do not have the game. I sort-of like the game, but I'm still waiting for an updated English version. The current version dates back to 2002. The artwork was okay back then, but it looks really plain now. It has not aged well, unlike many of its contemporaries.
In the original game, resources are plain colored octagonal wooden pieces.
I bought these two from Board Game Extras. Shipping is surprisingly cheap at £8.50 to Singapore. Order is pending. Let's see how it goes.
I also bought Virus Token Upgrade Set (US$39.99) containing four virius types (24 tokens each), Purple Mutation Virus Tokens (US$5.99) containing 12 tokens, and Player Pawn Upgrade Set (US$14.99) containing 7 player tokens. These are made by LITKO for Pandemic, if you have not guessed already.
In the original game, infections are represented by cubes. They do not look like virius at all. :lol:
There are player pawn sets for the expansions, but they are too expensive for me to buy at US$15 each. I almost never play with expansions anyway.
It costs US$16 to ship to Singapore, so I had it shipped to ezbuy for US$5. I estimate it costs another US$5 to ship to Singapore.
I'll love to get the Power Plant House Marker Set for Power Grid (six colors with 22 tokens each), but it costs a whopping US$69.99 — this is twice the price of the base game! Sorry, no. So, I'm still on the outlook for nice house tokens.
I'm also looking for custom trains for Ticket-to-Ride, but no luck so far. The trains from the Deluxe edition are very nice, but they are too big for the normal edition.
Worth it?
The upgraded components are very expensive — they cost around the same price as the base game itself. But I also find the use of colored wooden cubes to be extremely un-thematic. In fact, that turned me off more than one Euro-game. You are just collecting cubes of various colors and exchanging them for cubes of other colors.
Is it worth it? In the past, the answer was no, I would rather spend on games. But since I had more-or-less reached saturation point, I decided to upgrade the components of my favourite games. Even so, there is a limit to what I would spend.
51st week is the best opening week
Dec 2017
The 51st week is the best week to open a blockbuster movie. First, it will gross the highest in the opening weekend. Then, the holiday season helps to maintain the momentum. Finally, there are two holidays that help to boost attendance.
Which is why Disney shifts the traditional Star Wars opening from May to Dec. Not that it helps TLJ, though.
The second weekend was disappointing. And it took in only $27.5 mil on Christmas day (about half of TFA).
Once upon a time, Star Wars looked so invincible. If Star Wars opens in the 51st week, no one else would dare to put their blockbuster there. But after the TLJ fiasco, I think the other studios are willing to take the chance. In fact, it would be great for them if Star Wars bombed and the audience flocked to watch their film instead.
For TLG, the Mouse altered the deal to take 65% of the ticket sales (vs the usual 55%) and theatres have to show it for four weeks. It is the real-life Empire. Ironical for it, the Resistance is fighting back.
The magic of Star Wars
Dec 2017
I skipped all reviews and comments on Star Wars: The Last Jedi until RedLetterMedia released their review (Half in the Bag: The Last Last Jedi Review) four days after the official opening. I look forward to their review, not the movie. That's how far Star Wars has fallen for me. I have not and will not watch any more Star Wars until RLM says it's good-to-go. :lol:
Even before RLM released their review, it wasn't looking that good for TLJ.
Rotten Tomatoes (on 21/12)
| | Critics | Top critics | Audience |
| --- | --- | --- | --- |
| Score | 92% | 96% | 54% |
| Avg rating | 8.1 | 8.2 | 6.4 |
| Fresh reviews | 298/323 | 47/49 | ?/129,656 |
Critics cannot stop gushing how great TLJ is, but the general public is not buying it.
All the critics who attended the premiere had to give it a positive rating (suspect at least A-). You can tell who attended because they uploaded their reviews on 12th Dec, on the very hour the review embargo was lifted. (View whores. :lol:)
I was disappointed my favourite reviewers sold out, but hey, I would be surprised if they burnt bridge over this — you don't want to upset the Mouse. Chris Stuckmann spoke highly of it and gave it a A-, but he wasn't oozing with genuine enthusiasm at all (watch his other videos where he really likes a show). Jeremy Jahns tried to sound as positive as he could and copped out by not giving it a rating.
Box Office Mojo
| | TLJ | TFA | R-1 |
| --- | --- | --- | --- |
| First day | $104.7 mil | $119.1 mil | $71.1 mil |
| First weekend | $220.0 mil | $248.0 mil | $155.1 mil |
| First week | $296.6 mil | $390.9 mil | $222.0 mil |
(TLJ number filled in on 23/12.)
TLJ is not doing as well as TFA. That is already very telling. Undoubtedly some people were already turned off by TFA that they decided to skip TLJ. But I would say word-of-mouth review of TLJ played a bigger role. This is not the sequel that some Star Wars fans are looking for, so they decided to skip it to retain their childhood memories.
The fanboys caught it on the opening weekend, so while the numbers were not stellar, they were still great. Not after that. Currently, it is raking in $20 mil a day compared to ~$40 mil for TFA. At this rate, the first week total will be around $300 mil.
What went wrong?
TLJ totally tramps on the original trilogy and the rules that it established. It does not feel like Star Wars. That's not how the force works. Luke Skywalker is out-of-character. Also, the setup, mysteries and cliffhanger in TFA? Sorry, you were trolled. You don't do that in a sequel. (It is possible some revelations would be overturned in the sequel, but by then, who cares?) These are two major turn-offs. We are not even considering issues within the film itself.
Disney's touch is ever more obvious. Being the flavour of the day, Disney has to add political-correctness, diversity, gender equality and cute animals to appeal to mass audience. And misplaced humor to lighten tense moments.
Also, Star Wars's universe is just too small, limiting the stories that can be told. Disney attempts to expand it by introducing a large cast (so that they can have spin-offs in the future). There is just no time to flesh out the characters.
Rian Johnson, the director, is credited as the sole writer. Is it true? It's hard to tell, since it's Disney; its expertise is creating a polished fiction for you to believe in. I believe he was given the key plots and elements and asked to piece together a coherent story.
Takeaway
Ignore reviews from premiere events. Or, be super super-critical.
This is peak Star Wars.
From Mike Stoklasa (of RLM) [21:00]: "That was the magic of Star Wars, now it's gone... flushing down the f*'ing toilet."