More metal puzzles
Dec 2018
After some more searching (解锁 解环 解套 解扣 古典 成人益智 玩具), I found some pretty nice puzzles. They are less abstract than ring puzzles, so are "easier" to deduce.
There seems to be a full set of 20. Prices are all over the place, as low as 10 – 15 yuan each to 20+ yuan to 50+ yuan and beyond! Obviously, I ordered from the cheapest sellers. :lol:
There are four difficulty levels. As usual, YMMV. The difficulty level is suspect because many of them overlap with current Hanayama Cast Puzzles (HCP), but with different difficulty levels.
Level 1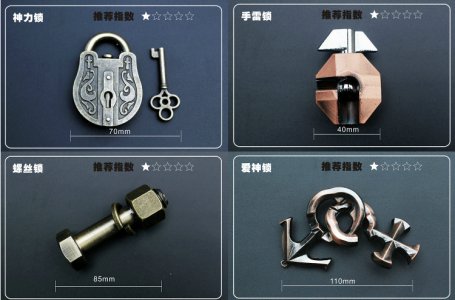 I'm most disappointed with the first piece. It looks so challenging, but is so easy to solve that I went, "Is that it? Did I miss anything?".
The second piece is HCP Flag, rated Level 1 Easy.
The third piece is the second most expensive at 25 yuan (US$3.62). It is hard to find.
The fourth piece is HCP Dolce, rated Level 3 Normal. IIRC, I solved it in Kinokuniya. I got it anyway because it is unique looking. It is incredibly easy to solve.
Level 1 is ultra easy. Save your money.
Level 2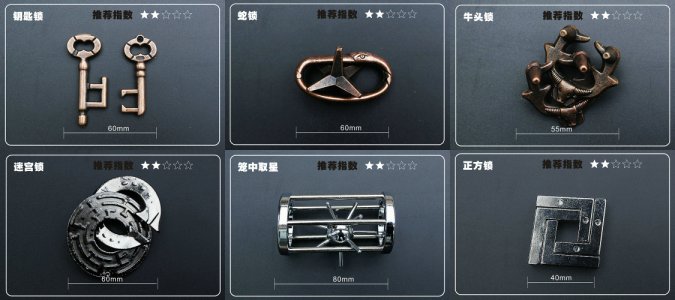 The first piece is HCP Key, rated Level 1 Easy.
The second piece is HCP Star, rated Level 3 Normal. The third piece is HCP Elk, rated Level 5 Expert. I did not get them as I think they are easy to solve and aren't that interesting.
The fourth piece is HCP Laby, rated Level 5 Expert.
The fifth piece is the most expensive at 28 yuan (US$4.03). It is the hardest to find.
The last piece is HCP Quartet, rated Level 6 Grand Master. I have not solved it.
Level 2 is somewhat easy, but is starting to get challenging.
Level 3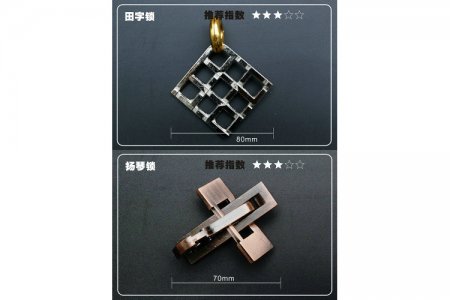 The first piece is HCP Duet, rated Level 5 Expert. It is the third most expensive at 19.80 yuan (US$2.87).
The second piece is HCP Violon, rated Level 3 Normal.
Level 4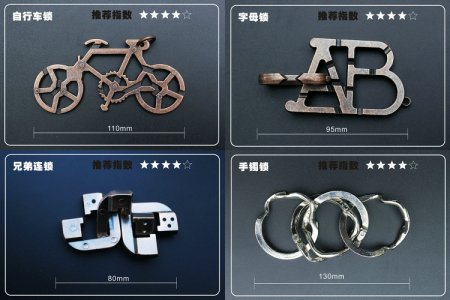 The first piece is HCP Bike. The second piece is HCP ABC. They are rated Level 1 Fun.
The third piece is HCP Chain, rated Level 6 Grand Master.
The fourth piece is HCP Ring, rated Level 4 Hard.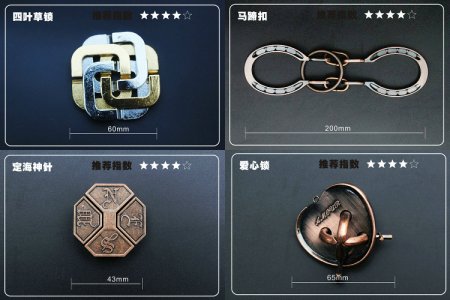 The seventh piece is HCP News, rated Level 6 Grand Master.
The last piece is HCP Amour, rated Level 5 Expert. It is the third most expensive at 19.80 yuan (US$2.87) [tied].
Full set
Originally, I only intended to get maybe 8 to 10 puzzles (the more difficult and interesting pieces). A while later, I decided to get the simple but interesting looking puzzles as well. So I might as well get most of them. All but two, in fact. It costed me 294.60 yuan (US$43) in all, excluding International shipping.
Many pieces were priced around 15 yuan (US$2.20), but some were harder to find and were priced higher by the sellers.
After I bought my initial batch of 8 puzzles, I found one seller selling the entire set of 20 for 300 yuan (US$43.50)! I would have ordered that upfront instead of hunting down so many stores to find cheap ones with the most pieces. Many have 14 to 18 pieces. I bought from two stores in the end; one was slightly more expensive, but he had the hard-to-find pieces.
This concludes my metal puzzles collection... for now. :-D
Brain teaser metal ring puzzles
Dec 2018
I chanced upon metal puzzles while window shopping, of all places, in Kinokuniya. Why does a bookstore sell this stuff? Maybe it's the fad now in Japan.
Anyway, it was exactly what I was looking for. I had been telling my teammates that, in the face of seemingly-impossible issues, they should persist in looking for solutions and not be prone to give up.
But the puzzles were very premium and costed $23 each. My next thought was, of course, TaoBao. :lol:
Search terms (after some trial-n-error): 金属 解环 解扣 益智玩具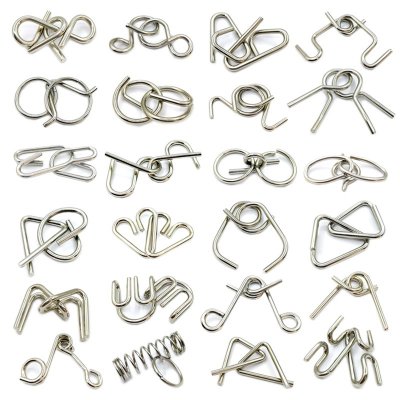 There are tons of simple metal ring puzzles on TaoBao. There are several variations, but sets of 24, 30 and 36 are common (they are usually split up into smaller sub-sets). I was curious how many unique simple puzzles there were. I did not get an exact count — it was difficult to do pattern recognition — but I estimated it to be around 40. Many are quite similar, though, and are solved the same way, especially the most simple ones.
In any case, it is sufficient to get a set of 24 — the most common. By then, you would be sick of it! :lol:
I only count the puzzle as solved when I understand exactly how it is solved — i.e. solve it in "slow motion" — and put it back! :lol: It is entirely possible to solve the puzzle by luck and then can't figure how to put it back!
I found a set of 36 metal ring puzzles, split up into 4 sets of 9 each. Even better, they are split by skill level (one to four stars). I mixed the puzzles up before I gave them out. However, later I found that the indicated skill levels were not accurate. Each set has a mix of easy and hard puzzles.
This year's theme: The Impossible Xmas! :-D
Some time later, I found that there is a fifth set in the series — with five stars. However, they are no longer simple ring puzzles pictured above, but with strange and complex shapes. I consider these one-step-up.
There is also a companion series of four sets with six "slightly advanced" puzzles each (with complex shapes, some with ropes). They go from one star to four, out of six; there could be two more sets in the future.
Money trails (Oz)
Dec 2018
Preparation
| | Price |
| --- | --- |
| Clothes1 | $204.30 |
| Car accessories2 | $43.90 |
| Data roaming3 | $31 |
| Visa | $83 |
| Total | $362.20 |
1 Bought a bunch of cold-weather kids clothes. In the end we did not bring the jacket along (the most expensive single item @ $79.90) as it was very bulky and we thought it wouldn't be that cold — it was summer after all. Wind aside, the lowest temperature was ~11 degree celsius.
2 Mobile phone holder for $14.90 and 2-slot cigarette USB charger (2.4A per port) for $29. Turned out the rental car had one USB port, but it seemed to charge at 1A. My phone struggled to charge when using the GPS.
3 $12 for mine (1 GB for 30 days). $19 for Missus (Daily Unlimited, used on first day as it was on by default).
VISA is A$20 each using the official website, charged S$20.75 using CC (1:1.0375).
Bought a 29" luggage for $154 (30% off), but it is not counted.
Flight
| | Price |
| --- | --- |
| Taxi to/fro | $80.90 |
| Plane | $4,487.60 |
| Souvenirs | $59 |
| Total | $4,627.50 |
We did not buy the 1:250 scale model of the plane on the way there, or it would have costed us A$139. It was not available on the way back.
Expenses
| | 1 | 2 | 3 | 4 | 5 | 6 | 7 | A$ |
| --- | --- | --- | --- | --- | --- | --- | --- | --- |
| Meals | 1 | 302.50 | 75.50 | 228.25 | 62.50 | 72.10 | 188 | |
| Snacks2 | 20.90 | 34.40 | 10 | 4 | 8.80 | 11.60 | 6.70 | |
| Attractions | 1 | 45 | 1 | 1 | – | – | – | |
| Souvenirs | 3 | – | 6.95 | – | – | – | – | |
| S - Food | – | – | – | 71.60 | 12 | – | 2486 | |
| Misc | 33 | 354 | – | 8.105 | – | – | – | |
| Total | 26.90 | 416.90 | 92.45 | 311.95 | 83.30 | 83.70 | 442.70 | 1,457.90 |
1 Paid by Missus sis. Sometimes we paid for all, sometimes we paid for our own meals.
2 Including water. We drank bottled water throughout and only boiled water on the fourth (for instant coffee) and last day.
3 Bought a local SIM card for Missus. Promo price.
4 I had no idea Australia has a different plug; all my chargers were useless. Could not find the correct socket converter, so bought a 4-port USB charger ($25). However, the charger was next to useless as it supplied 1A max in total — I did not read the label properly. Luckily, Missus sis brought two travel adapters with integrated USB chargers. Topped up $10 using CC for 1 GB data for Missus.
5 Of all things, bought two pairs of baby socks ($5), a nail cutter ($2.95) and a plastic bag ($0.15).
6 Red wine for Missus sis ($163) and ourselves ($85).
Transport
| | 1 | 2 | 3 | 4 | 5 | 6 | 7 | A$ |
| --- | --- | --- | --- | --- | --- | --- | --- | --- |
| Fuel | – | – | 51.75 | 34.05 | – | – | 18 | |
| Parking | – | – | – | 7 | – | 18 | 47 | |
| Fuel 2 | – | – | – | – | 41.70 | – | 18.50 | |
| Parking 2 | – | – | – | – | – | – | 243 | |
| Misc | 301.191 | 802 | – | – | – | – | – | |
| Total | 301.19 | 80 | 51.75 | 41.05 | 41.70 | 18 | 107.50 | 641.19 |
Missus drove the second car on the 4th day onwards as Missus sis BF returned early.
1 Car rental, including ~$56 for the child seat. We brought along a booster seat to save ~$24. Paid using CC.
2 40-mins ferry ride. Yup, super expensive.
3 $74, but subsidized $50 by Missus sis.
Need to top-up to full tank before return or it is $4/L. Good thing I asked.
Audit
| | A$ |
| --- | --- |
| Spent | 2,099.09 |
| CC | -311.19 |
| Left | 692.05 |
| Unaccounted | 20.05 |
| Total | 2,500.00 |
Total expenses (S$)
Effective exchange rate: A$1 to S$1.0074. (Changed A$2,000 @ 1.006 and A$500 @ 1.013.)
| | Amt |
| --- | --- |
| Preparation | $362.20 |
| Flight | $4,627.50 |
| Accomodation | – |
| Expenses | $1,801.13 |
| CC | $317.04 |
| Post-CC | $18.69 |
| Unaccounted | $20.20 |
| Lost item | $20 |
| Reimbursement | -$173 |
| Total | $6,993.76 |
Accomodation is paid by Missus sis.
Lost right baby shoe on the last day, 3 hours before checkin. Also lost one sock and watch strap holder.
CC is updated with correct exchange rate. Car rental A$301.19 = S$306.66 (1:1.018), SIM card top-up A$10 = S$10.38 (1:1.038). :-O
Post-CC is tolls, no fines, it seems; A$12.56 = S$12.81 (1:1.020), A$5.77 = S$5.88 (1:1.019).
Missus sis paid me S$173 for the wine.
Mamma Mia!
Nov 2018
Highly recommended if you are an ABBA fan. Bonus: the story is pretty decent too.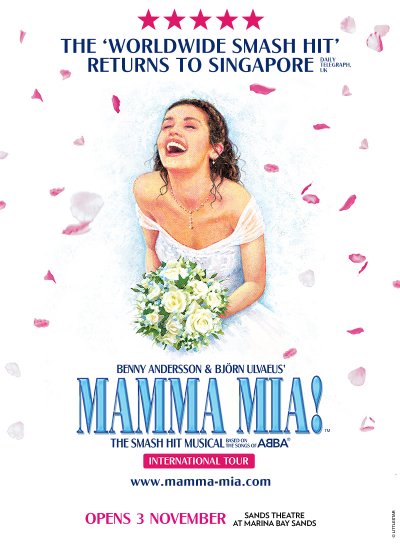 Stall:
Cat 1 $188, D to L
Cat 2 $158, M to CC
Cat 3 $128, DD to OO
Dress:
Cat 3, $128, A to C
Cat 4, $98, D
Grand Circle:
Cat 4, $98, A to F
Cat 5, $68, G to P
Cat 6, $58, Q to S
Previously, I sat at Dress floor, row B. This time, Stall floor, row M. It is worth it!
The next time they are here, I'm going to get Grand Circle floor, row A.
Puerto Rico, HK vs KO
Nov 2018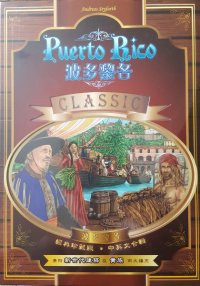 HK edition, US$40
On the HK edition:
I bought the HK edition with the coins, costed me 376 yuan (~US$55) before International shipping.
It is the real deal. Comes shrink-wrapped, in a plastic slipcase, with a paper sleeve to prevent the box from slipping out.
Inside the box are:
a small blue pouch, the components are stored inside in zipped plastic bags (extras provided); the goods are crates (not cubes)
a pamphlet advertising their other games
a sachet of silica gel
the rule book
all the boards are stored in a sealed plastic bag; the boards have a smooth finish* and are 2mm thick
and the box interior has a faux wooden crate insert
The metal coins are packed separately from the box. The seller used a slightly oversized package with an inadequate air-bag on one side and broken pieces of styrofoam on the other side. There was room for the box to slide around, but surprisingly, the box arrived in a near-mint condition, no doubt thanks to the plastic slipcase. The rule book was curled, though.
(TaoBao sellers use bare-minimum packaging as a rule. Had I not buy the metal coins, I'm sure the seller would have used a package that fits the box exactly.)
Shipping weight is 2.6 kg. (Pretty sure it is volumetric weight.)
In hindsight, I should have bought the normal edition without the metal coins. They are pretty generic. I'm quite sure similar (if not the same) coins can be gotten for much less than US$16.
* The tokens, tiles and coins have smooth finish, the game and player boards have linen finish. It is obvious by sight, but it is pretty subtle by touch.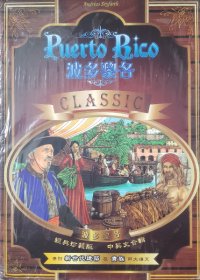 China edition, US$9
On the KO edition:
I decided to buy the KO version alongside the HK edition. For one, it was pretty cheap. Second, it would answer the nagging question if it were a KO.
The game selling for ~60 yuan could be a cost-down or China edition for all I know. I got mine for 59.40 yuan.
It was packed in an exact-fit package. As a result, it arrived with a crease on one edge of the box. No big deal. (I never expect mint boxes from TaoBao.) Shipping weight is 1.7 kg.
The box was shrink-wrapped. It looks pretty good on its own. The shading is slightly darker than the HK edition, but I won't say it is worse off. It is very slightly smaller than the original (a few mm on each dimension).
Once I lifted the cover, a very strong ink odour filled the air. I immediately knew what it meant: KO.
The components are exactly as shown in the KO images, e.g. cube goods. Despite the smell, the boards are of decent quality and thickness (1.5 – 2mm). They have faux linen-finish printed on them, though, and that makes them unmistakably KO.
At first I thought it was because they scanned the original boards, but the HK edition had smooth finish, so they could be just going for the linen-finish effect.
As with the original, the boards are dual-sided, one in English and one in Chinese. The first half of the rule book is in Chinese, the second half in English. The rule book is really high quality. It is passable for the original.
All in all, this edition is very playable — once the ink is aired out. :lol:
Update: all the boards (game and player boards), tiles, role cards, VP chits and cargo ships have linen-finish. Originally I thought it was printed, but feeling the boards very carefully, it seems to be real — but very subtle.
Is this a KO or cost-down edition? Right now, I'm not so sure...
Upon closer inspection, I'm quite sure it is a KO. The boards look like they are scanned. It is pretty good quality, but two things give it away: the text is slightly thicker (slight bold effect), and some thin lines almost disappear (like not captured properly). The colors are also a few shades lighter, but I don't think that's proof.
Puerto Rico at last
Nov 2018
I've always wanted to get Puerto Rico, not necessarily to play much, but just for completeness-sake — it was one of the defining games in its hay days. It was #1 on BGG for many years, but it has now dropped to #15.
The problem is, the English edition is still the original one published by Rio Grande Games (RGG) all way back from 2002. And the artwork just did not stand the test of time.
Puerto Rico Deluxe, the limited 10th anniversary edition, was released in 2011. It was really gorgeous, but it was also really expensive: it had an MSRP of US$100. It was cheap in hindsight. It went as cheap as US$65 as retailers tried to clear stock. As usual, after it went OOP, its price skyrocketed. Opened like-new copies start at US$200.
Alea/Ravensburger released a 2nd edition with new artwork in 2014, but it was not released in English due to RGG holding the US publishing rights — as long as they continue to print it.
Interestingly, Boardway Toys from Hong Kong printed a bilingual Chinese/English edition in 2014, but it did not make its way to BoardGameGeek (BGG) until March 2018. I didn't see it until now.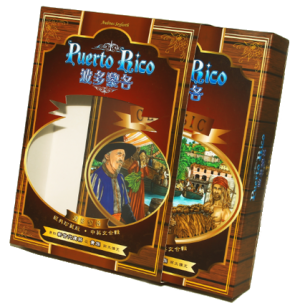 波多黎各,經典珍藏版 - 中英文合輯
Posted on BGG:
You can buy from TaoBao, the link is given above. It is possible to ship overseas — Chrome can auto-translate the website to mostly-legible English and there are online guides.
As noted, prices are all over the place. As far as I can tell, there are three real price points:
~60 yuan (~US$9)
~270 yuan (~US$40)
~380 yuan (~US$56)
The first one is KO. The way I identify it is, as mentioned, the cube goods, and also the bare white insides of the box. Some sellers price this way more expensive, or have pictures of the authentic game alongside, but so long they show either one of these, or do not have pictures of the components at all, I assume it is a KO. (I did not check with the sellers.)
The second one is easy. It must cost around this price. (No bargain for real stuff.) The main picture shows a slipcase, the goods must be correct and the box interior is a faux wooden crate. Will sellers use wrong images to be mislead buyers? Possible. It's a risk. Either check with the sellers or use their reputation as a guide.
The third one is actually a subset of the second. Some sellers offer an option for the "limited edition" that comes with 8 gold and 46 silver coins. If it doesn't cost around this price, even if the description mentions the coins, I take it that the coins are not included. (The seller could have offered it in the past, but had sold out.) From cursory browsing, only two sellers offer this now.
This HK edition seems to be released in 2014. I'm amazed it only made its way to BGG in 2018... Even on TaoBao, stocks seem to be dwindling — there are only a handful of sellers.
Finally, a small chapter closes in my life. :lol: