Mamma Mia!
Nov 2018
Highly recommended if you are an ABBA fan. Bonus: the story is pretty decent too.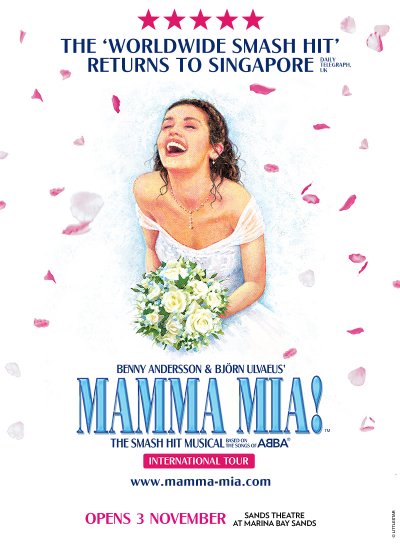 Stall:
Cat 1 $188, D to L
Cat 2 $158, M to CC
Cat 3 $128, DD to OO
Dress:
Cat 3, $128, A to C
Cat 4, $98, D
Grand Circle:
Cat 4, $98, A to F
Cat 5, $68, G to P
Cat 6, $58, Q to S
Previously, I sat at Dress floor, row B. This time, Stall floor, row M. It is worth it!
The next time they are here, I'm going to get Grand Circle floor, row A.
Puerto Rico, HK vs KO
Nov 2018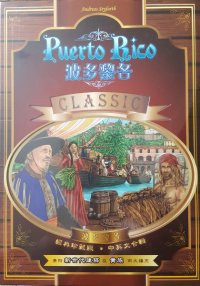 HK edition, US$40
On the HK edition:
I bought the HK edition with the coins, costed me 376 yuan (~US$55) before International shipping.
It is the real deal. Comes shrink-wrapped, in a plastic slipcase, with a paper sleeve to prevent the box from slipping out.
Inside the box are:
a small blue pouch, the components are stored inside in zipped plastic bags (extras provided); the goods are crates (not cubes)
a pamphlet advertising their other games
a sachet of silica gel
the rule book
all the boards are stored in a sealed plastic bag; the boards have a smooth finish* and are 2mm thick
and the box interior has a faux wooden crate insert
The metal coins are packed separately from the box. The seller used a slightly oversized package with an inadequate air-bag on one side and broken pieces of styrofoam on the other side. There was room for the box to slide around, but surprisingly, the box arrived in a near-mint condition, no doubt thanks to the plastic slipcase. The rule book was curled, though.
(TaoBao sellers use bare-minimum packaging as a rule. Had I not buy the metal coins, I'm sure the seller would have used a package that fits the box exactly.)
Shipping weight is 2.6 kg. (Pretty sure it is volumetric weight.)
In hindsight, I should have bought the normal edition without the metal coins. They are pretty generic. I'm quite sure similar (if not the same) coins can be gotten for much less than US$16.
* The tokens, tiles and coins have smooth finish, the game and player boards have linen finish. It is obvious by sight, but it is pretty subtle by touch.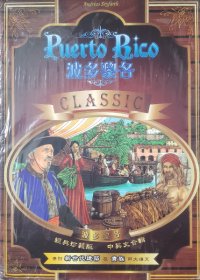 China edition, US$9
On the KO edition:
I decided to buy the KO version alongside the HK edition. For one, it was pretty cheap. Second, it would answer the nagging question if it were a KO.
The game selling for ~60 yuan could be a cost-down or China edition for all I know. I got mine for 59.40 yuan.
It was packed in an exact-fit package. As a result, it arrived with a crease on one edge of the box. No big deal. (I never expect mint boxes from TaoBao.) Shipping weight is 1.7 kg.
The box was shrink-wrapped. It looks pretty good on its own. The shading is slightly darker than the HK edition, but I won't say it is worse off. It is very slightly smaller than the original (a few mm on each dimension).
Once I lifted the cover, a very strong ink odour filled the air. I immediately knew what it meant: KO.
The components are exactly as shown in the KO images, e.g. cube goods. Despite the smell, the boards are of decent quality and thickness (1.5 – 2mm). They have faux linen-finish printed on them, though, and that makes them unmistakably KO.
At first I thought it was because they scanned the original boards, but the HK edition had smooth finish, so they could be just going for the linen-finish effect.
As with the original, the boards are dual-sided, one in English and one in Chinese. The first half of the rule book is in Chinese, the second half in English. The rule book is really high quality. It is passable for the original.
All in all, this edition is very playable — once the ink is aired out. :lol:
Update: all the boards (game and player boards), tiles, role cards, VP chits and cargo ships have linen-finish. Originally I thought it was printed, but feeling the boards very carefully, it seems to be real — but very subtle.
Is this a KO or cost-down edition? Right now, I'm not so sure...
Upon closer inspection, I'm quite sure it is a KO. The boards look like they are scanned. It is pretty good quality, but two things give it away: the text is slightly thicker (slight bold effect), and some thin lines almost disappear (like not captured properly). The colors are also a few shades lighter, but I don't think that's proof.
Puerto Rico at last
Nov 2018
I've always wanted to get Puerto Rico, not necessarily to play much, but just for completeness-sake — it was one of the defining games in its hay days. It was #1 on BGG for many years, but it has now dropped to #15.
The problem is, the English edition is still the original one published by Rio Grande Games (RGG) all way back from 2002. And the artwork just did not stand the test of time.
Puerto Rico Deluxe, the limited 10th anniversary edition, was released in 2011. It was really gorgeous, but it was also really expensive: it had an MSRP of US$100. It was cheap in hindsight. It went as cheap as US$65 as retailers tried to clear stock. As usual, after it went OOP, its price skyrocketed. Opened like-new copies start at US$200.
Alea/Ravensburger released a 2nd edition with new artwork in 2014, but it was not released in English due to RGG holding the US publishing rights — as long as they continue to print it.
Interestingly, Boardway Toys from Hong Kong printed a bilingual Chinese/English edition in 2014, but it did not make its way to BoardGameGeek (BGG) until March 2018. I didn't see it until now.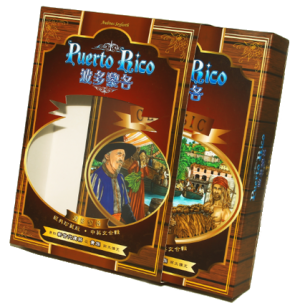 波多黎各,經典珍藏版 - 中英文合輯
Posted on BGG:
You can buy from TaoBao, the link is given above. It is possible to ship overseas — Chrome can auto-translate the website to mostly-legible English and there are online guides.
As noted, prices are all over the place. As far as I can tell, there are three real price points:
~60 yuan (~US$9)
~270 yuan (~US$40)
~380 yuan (~US$56)
The first one is KO. The way I identify it is, as mentioned, the cube goods, and also the bare white insides of the box. Some sellers price this way more expensive, or have pictures of the authentic game alongside, but so long they show either one of these, or do not have pictures of the components at all, I assume it is a KO. (I did not check with the sellers.)
The second one is easy. It must cost around this price. (No bargain for real stuff.) The main picture shows a slipcase, the goods must be correct and the box interior is a faux wooden crate. Will sellers use wrong images to be mislead buyers? Possible. It's a risk. Either check with the sellers or use their reputation as a guide.
The third one is actually a subset of the second. Some sellers offer an option for the "limited edition" that comes with 8 gold and 46 silver coins. If it doesn't cost around this price, even if the description mentions the coins, I take it that the coins are not included. (The seller could have offered it in the past, but had sold out.) From cursory browsing, only two sellers offer this now.
This HK edition seems to be released in 2014. I'm amazed it only made its way to BGG in 2018... Even on TaoBao, stocks seem to be dwindling — there are only a handful of sellers.
Finally, a small chapter closes in my life. :lol: