Maison Ikkoku R0 Boxset
First created on 28th Apr 2003.
---
I was impressed by the look of the bootleg Maison Ikkoku boxset and borrowed it from my friend to take a look. These are the pictures I took of the boxset. Note that the video quality is another thing altogether. You should be able to find out more if you poke around my website a bit. ;-)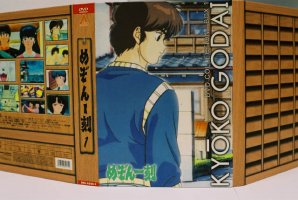 The front, with back and side panels.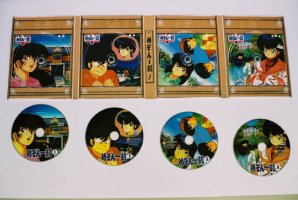 The contents.

Opened with discs.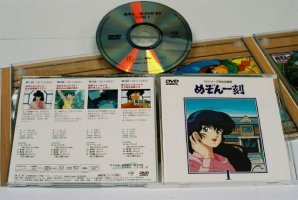 Compare to the R2.
---
Equipment used
Minolta Dynax 7, fitted with 'ML' focusing screen, with VC7
Minolta AF 28mm f/2
Minolta AF 50mm f/1.4
Manfrotto 055 tripod, with Manfrotto 410 junior gearhead
Fuji Superia 400
Scanned using Fuji Frontier


Full-frame and no flash is used unless specified.

Original images are 1840 x 1232. Resized to 640 x 427 using bilinear interpolation in Photoshop 6.0. No sharpening or other processing is done. Saved as JPEQ quality 7. Resized to 185 x 124 for the thumbnails.
---
Comments, please email nhyone@singnet.com.sg.
visits since 28th Apr 2003.