Studio Ghibli Library DVDs
First created 29 Aug 2001.
Updated 24 Dec 2001: changed links.
Expiry date 24 Feb 2001.
May 2009: removed explicit size from img tags.

Please calibrate your monitor for best viewing experience. If you have no idea, try the following,
set your resolution to 1024 x 768, 16 bit color, at least
Set your gamma to 1.4, if not 1.7
---
The 3 Kiki DVDs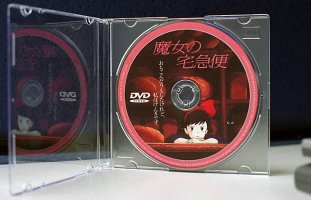 The disc,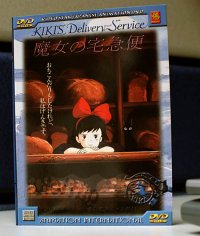 the front, the back.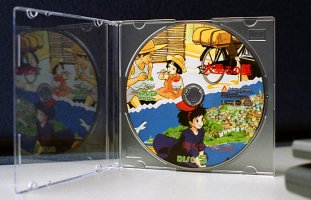 The disc. See below for the packaging.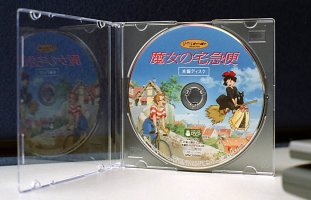 The disc. The cover was not available for the shot.
---
Archives of Studio Ghibli DVDs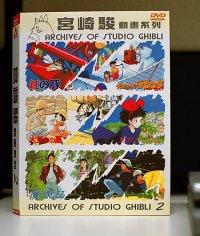 The front, the back,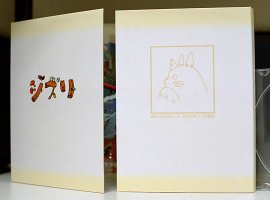 half opened,

I am very impressed with the packaging. In fact, I did a small survey and no one believed this was bootleg. The pirates have come a long way. In time, it will be even harder to distinguish between them and the originals.
---
Photo-nut section
The film used is Fuji Superia ISO 400. No flash is used, unless otherwise stated. Usually, I don't crop my photos, but this time is an exception. Otherwise, there is too much empty space which detract from the presentation. 2-sec MLU (mirror lockup) is used.

Note that I differ from my usual practice by not putting a Copyright message in the images. However, these images should still not be used for non-private purposes.

The negatives are scanned in on a Nikon LS-30 using VueScan at 1350 dpi. The following processing is done for all images:
Cropped to various sizes.
Level is adjusted to 0.75 to boost saturation.
Resized to 675 dpi.
Sharpening is applied; amount 75%, radius 1.5 pixels, threshold 5.
Converted to jpeg; baseline optimised; quality 7.
Created thumbnail by resizing to 150 dpi. Saved as jpeg; baseline optimised; quality 5.
As a guide, as few manipulation is done as possible.
---
-end of page-
visits since 18th Apr 2003.