Bus bay give-way yellow box
Dec 2008
I like the concept of the bus bay give-way yellow box, because it means fewer bus lanes.
However, the potential dangers now make me hesitate:
May not stop in time when the bus moves out
After stopping in time, the vehicle behind you may bang into you
Even if you are in the second lane, the vehicle in the third lane may lane change to avoid the bus and bang into you
A good exercise (for my bike)
31 Dec 2008
I travelled 90 km in my semi-joyride yesterday. I wanted to go to the Changi Exhibition Centre, so from Toa Payoh, I took PIE (east), then go up KPE (north-east), then TPE and exited at Loyang Avenue. I then go all the way straight to Changi Coast road and then... I couldn't find the Exhibition Centre.
I went up and down Changi Coast road twice, went into the industrial park and event went into the checkpoint to ask for directions. I finally found it. Judging by its isolation and the wide access roads, it must be very new.
It was around noon time and it was quite hot. Initially, I just applied sun-block, but halfway, I decided to put on my jacket to avoid tanning my arms. Wearing a jacket is not hot as long as you are moving.
I had to leave almost immediately because I had another appointment downtown. The entry fee was $20 and I didn't want to go in for just half-an-hour. I went to Chinatown via ECP and entered CBD at Rocher road.
When it was time to go home in the evening, I originally intended to take the Thomson road. Then I realized it would be very jammed, so I decided to take ECP, KPE, PIE instead. Then I remembered Kallang Leisure Park was along the way — I have a pre-ordered set ready for collection.
On the way to ECP, I remembered Kallang Leisure Park was just next to Nicoll highway; there was no need to go to ECP. However, I took a wrong turn and ended up paying $1 in ERP.
It's very rare for me to travel so much in a single day. It was quite enjoyable, even though it was quite hot. And the cost was just $3.40 for the petrol!
Preventive riding
29 Dec 2008
I had not ridden my CB400F in over a week — since I rode it back from work. Two days ago, I couldn't start the engine when I wanted to shift the bike to another parking lot. Could the battery be weak?
Today, I managed to start the bike, so I rode it two rounds around Toa Payoh to recharge the battery. One round is around 8 km. However, I took a detour — the longer the better — so I travelled 20 km. I also took the opportunity to pump air into the tyres.
I really ride this bike too infrequently. I am now considering getting season parking so that I can ride it more often, especially joyrides in the weekend. Without season parking, I only have four chances in a week to ride this bike.
The feeling on the CB400F is indescribable. I feel like I'm on a cross-country adventure, even though I'm just circling Toa Payoh. In contrast, the YBR feels like a bicycle, it just gets me around. If it weren't for the number plate, I could have sold it off and buy a scooter.
Feedback to HDB
Dec 2008
I found it quite effortless to give feedback to HDB using its website.
I finally got sick of the burnt out lights on the top-level of my MSCP (about 40% burnt out) and I wrote to HDB asking it to replace them.
To my surprise, I actually got a call from a HDB personnel a few days later asking some questions. He claimed they were okay during the last inspection two weeks ago. Right. The lights had been out for months.
Then, I got another call a week later informing me on their findings! The personnel said that the lights weren't burnt out, they were short-circuited. He even asked me if he should go ahead with the repairs. Of course, I replied!
I certainly appreciate HDB keeping me in the loop.
Update (27/12): I saw someone repairing the lights and the lights are now working! I must iterate: feedback works. Be an active citizen!
Always full
Dec 2008
It is now harder and harder to find a vacant bike parking lot in my carpark. Even though HDB said there are plenty of lots left, I can only see three vacant lots at the top level of the carpark early in the morning when I wake up.
Lots of parking space!
Dec 2008
I went back to my office to get something during the shutdown. I could see vacant red parking lots, perhaps 10% to 20%. On normal days, the red lots were perpetually full.
Other than that, it was business as usual. I still remember two years back, when my company was a major tenant, when my company shutdown, everyone else also shutdown because the foodcourt was closed due to lack of business.
Season parking
Dec 2008
I applied for HDB season parking for my CB400F as I didn't want to leave it in the office during my company's 2-week shutdown period. To my surprise, I wasn't able to apply for a pro-rated 2-week season parking, unless it's followed by a full month's season parking.
Parking appeal successful!
Dec 2008
Good news, my parking appeal was successful. I saved myself $25! However, I've used up my "innocence" chance. Let me not do something stupid like washing my car/bike in the lot — which I do quite regularly. That carries a fine of $100.
Why do I wash my car/bike in the parking lot? It's not because I'm too lazy to drive/ride down. Rather, it's because I don't want to lose the lot!
Increase in insurance premiums
Dec 2008
My YBR's insurance premium rose by 1%. I expect to pay higher premiums for my other vehicles next year. I estimate that it would be 5% to 10% more expensive for my car.
This year, I pushed down my insurance premiums by shopping around for my car (around 40% less!) and opting for TP-only insurance for my bikes — I take on the FT risk myself.
No more tricks next year.
The most dangerous hour
Dec 2008
News: Undergraduate died 1 hour after the purchase of his first bike
Date: 12 December 2008. Source: AsiaOne.
He was killed on his maiden ride.
Less than an hour after receiving his dream bike, Llyod Fong crashed into a bus and was hit by an oncoming lorry.
The accident happened at 4.45pm, just an hour after he bought his new bike.
He was on his way to meet his brother with the newly purchased motorbike when the fatal accident occurred at Ayer Rajah Expressway along Enterprise Road.
The deceased had just celebrated his 21st year old birthday last month and had completed his National Service.
He graduated from Ngee Ann Polytechnic and had enrolled into Singapore Management University.
His sister said that he left at about 3pm for his brother's house in Sembawang to show him his new asset.
As his brother has had many encounters with motorbikes, Lloyd would like him to examine his.
His sister had warned him about the consequences and objected to it when he first pitched the idea of getting his own bike.
He was persuaded back then, but they gradually took it for granted as his brother 'remain unscathed' after years of riding.
Eventually, he made the purchase and kept it from his family, only to find out when they gathered at his brother's house.
"After ORD, he wanted to reward himself for getting a place in the university and bought the bike with his own money", said his sister.
He bought a second-hand Honda Phantom for approximately $3000.
The family received news at 7pm. His devastated mother and sister were covered in tears as they proceeded to the mortuary.
His wake will be held at 50 Woodlands Road, Block 695C.
The cortege leaves tomorrow morning for Mandai Crematorium.
The breaking-in phase is dangerous for motorcyclists, because you aren't sure how the bike will respond under hard braking, for example.
I quote from an Internet forum:
The road is an unforgiving place.
The bike is an unforgiving machine.
The road users are a bunch of unforgiving people.
Always ride conservatively on an unfamiliar bike.
Keep a conservative safety distance, especially in wet weather. Bikes cannot stop as fast as a car. Result: the bike will ram into the car in front, making the rider a super-rider.
It's also usual to corner too low, especially after going through the riding school's figure 8 course so often. Unfortunately, if the tyres cannot grip the road due to sand or other reasons, the bike will go flying.
Camera at carpark entrance!
Dec 2008
The industrial park where I worked in has an entrance where it's possible to make an exit from. I like to exit from there on my motorcycle, as it cuts down on three traffic lights.
Apparently many people do too, including drivers!
I noticed last week that there was a surveillance camera at the entrance — pointing inwards. That would be the last time I tried the shortcut!
Update: I still see dispatch riders taking the shortcut, but I don't wish to test fate. Going against the flow of traffic carries a fine of $150 and 6 demerit points.
Can you get a car loan?
Dec 2008
News: Getting loans not so easy
Date: 11 December 2008. Source: ST.
THEY may have perfect credit histories and earn around $3,000 a month, but many consumers are finding it hard to get a car loan.
Faced with gloomy economic conditions, banks and financial institutions seem unwilling to lend and are tightening the credit lines they do hand out, according to car dealers. Some said they have 'stacks' of letters from banks rejecting loan applications from potential customers.
Said Mr Glenn Tan, chief executive of Subaru agent MotorImage: 'It's not that (customers) don't want to buy a car. We have the bookings, but some cannot get the financing.'
One dealer estimated that up to 40 per cent of applications are now being rejected, compared with 15 per cent before the financial crisis. Other dealers put the rejection rate at about 25 per cent.
Even those who have secured loans cannot get full financing; many institutions are only offering to bankroll at most 80 per cent or 90 per cent of a car's purchase price, dealers said.
Mr Walter Koh, manager at Vertex Automobile, which sells China-made Chery cars, said customers are being rejected if their income is '$1 below the required level'. He has seen customers who earn good salaries being denied loans for even the most inexpensive cars, like the off-peak Chery QQ, which costs around $12,000. If spread out over a 10-year loan period at full financing, it would come up to only about $150 a month. 'It seems hard for customers,' said Mr Koh.
Some dealers also pointed out that loan applications are taking longer than usual to be processed. On average, it should take about three days, but for some, the process now lasts between 10 and 12 days.
Mr Richard Wan, general manager of TTS Chana Automobile, said banks are 'really scrutinising' new borrowers.
Some banks admit that the global economic crisis has dampened their borrowing. Many are cutting back on lending, despite a $2.3 billion injection from the Government to unfreeze credit markets.
GE Money, which specialises in car loans and personal loans, said that it was reducing its risk in this 'tough environment' in a number of ways, including tightening credit. Citibank and United Overseas Bank said that while they would continue to be prudent in their consumer credit assessment, those with a solid income and good credit records should not have problems getting an auto loan.
Economist David Cohen noted that many banks are likely being tighter with their credit, though some are loath to acknowledge it publicly.
'Given the recession that Singapore is in and the weakening in the labour market conditions, banks are going to be more stringent in who they lend out money to because it is risky lending to consumers,' said Mr Cohen, director of Asian economics forecasting at Action Economics.
The credit crunch is making some first-time car buyers nervous.
Civil servant Lim Chye Soon, 22, booked a new 1,500cc Toyota Vios. He made a loan application about two weeks ago after certificate of entitlement premiums hit a record low of $2. He had put a $10,000 down payment for his $31,000 off-peak car, and now needs a 70 per cent loan. 'My main concern is it won't be approved. If that's the case, I'll have to find more money to put down for the car.'
Meanwhile, wealthier buyers do not seem to be having the same problems. Performance Motors, which brings in the high-end BMWs, said it has not noticed any difference in its loan rejection rates.
Sounds like the credit tightening applies mainly to people seeking 100% financing. It is for their own good that their loans are rejected.
The bank must be reinstating the old golden rule that they don't lose any money in the event of a default. Ever wonder why banks only lend 70% to 80%? Because that's what they can easily offload to the next buyer.
Going to be a close shave again
10 Dec 2008
There are still ten days before my road tax expires. Problem is, I can't renew it because LTA says I have insufficient insurance coverage.
I have renewed my insurance via an AXS machine two days ago. I can understand why I wasn't able to renew yesterday, since Monday was a public holiday. However, I don't see why I still can't renew it today.
I called up my insurer. Yup, they've got the record. Looks like I should be able to do it tomorrow.
It looks like these online systems are still using daily batch processing to talk to one another rather than in real-time (or semi real-time).
A new OPC scheme
Dec 2008
With more ERP-type carparks, LTA can now introduce a new "OPC" scheme that is carpark-oriented.
A car is given a few "safe" carparks. The car is not charged as long as it is within the safe carparks. Otherwise, it is charged $5/hr at 15-mins interval. The deduction is made when he enters a safe carpark.
So much for complimentary parking
Dec 2008
My brother removed his cashcard when he exited a carpark because he got a complimentary parking coupon. He then forgot to put back the cashcard and went past a ERP gantry without a cashcard.
$10 fine. So much for complimentary parking.
This illustrates a few problems.
First, why does my brother need to remove the cashcard completely from the IU? I just take the cashcard out slightly, drive through and put it back.
Second, why do we need to remove our cashcard for complimentary parking?
Parking offence appeal
9 Dec 2008
I submitted this appeal to HDB through their online appeal page.
I parked vertically in a horizontal motorcycle parking lot and was fined for parking in a no parking zone.
It was the norm to park that way in that carpark so that two motorcycles could share one parking lot, thus over time, I took it as an accepted practice.
I am sorry that I infringed on the law and I would park properly in the future.
I don't think it'll work, but for $25, let's try anyway.
I should say I parked perpendicularly to a parallel parking lot, but somehow I always say horizontal/vertical.
Driving considerations
Dec 2008
There are two main considerations when I'll choose to drive:
It must be a smooth drive
It must be easy to find parking space
No traffic jams, in other words. There are only very few times these two conditions are met, due to Singapore's small size and high number of vehicles.
There are also two minor considerations:
The fuel costs must be worth the drive
Parking is free or cheap
It's expensive to drive and park. In other words, the drive better be worth it.
To me, driving is a joy. It's not a mode of transportation.
The phenomenon of perpetually full parking
8 Dec 2008
I went to Changi Village for dinner yesterday and it was packed! Not just the hawker centre, but the carparks as well. (After all, the most usual mode of transport there is by car.)
I didn't drive there. I would have if I could find parking easily. And I knew I couldn't. This is one big reason why I don't like to drive. (But the size of the crowd still amaze me. You'll think that the IT fair was held there.)
Later, I went to East Coast Lagoon hawker centre for a second round of dinner and it was pretty packed too, although there were some parking lots left.
I wonder if some people, after they got a car, deliberately choose a place "only" accessible by car to go?
I quoted "only" because the public transport actually covers most of the so-called "inaccessible" places. It's inconvenient to take the right bus service there, hence they are inaccessible. That's just plain laziness.
Motorcycle parking
5 Dec 2008
News: Fewer malls offer motorbike parking lots
Date: 27 November 2008. Source: my paper.
MORE shopping centres are taking away motorcycle parking lots and bikers here are not happy.
Malls in town and in the heartland cite various reasons for doing so, including space limitations, as well as physical conditions which make driving dangerous for bikers.
Netizens are abuzz. On a forum at www.singaporebikes.com, 1Seth1 said: "Give up two car lots and you can park four to eight motorbikes. It's so unfair."
R&D engineer Ng Hun Yang, 33, told my paper that he found out West Mall has stopped motorcycles from parking there since last month.
Mr Ng lamented: "There're more and more malls that don't allow motorcycles to park."
He would have preferred the malls to charge for parking instead of taking away the lots.
Some malls like Centepoint still have free motorbike parking.
Malls that do away with motorbike parking say there is available parking nearby.
"One safety concern is that motorbikes may speed inside a mall's carpark," said Mr Steven Goh of The Association of Shopping Centres' secretariat.
For Shaw House and Shaw Centre, the "narrow five-storey ramp" into the carpark is steep, said Mr Terence Heng, vice-president of media at Shaw Organisation.
A CapitaLand spokesman said that while its Junction 8 mall does not allow public parking for motorbikes, it has season parking for a "limited number of lots".
Design experts said carparks here are designed less with motorbikes in mind.
Mr Dennis Goh, a lecturer at the Singapore Polytechnic School of Built Environment, said the width, radius and gradient of most carpark ramps are designed to accommodate cars rather than motorcycles.
Some suggest having separate parking facilities for cars and motorbikes.
Mr Tai Lee Siang, president of the Singapore Institute of Architects, said this ensures motorcycles and cars do not get in each other's way.
If a mall decides that it doesn't welcome motorcyclists, so be it. There are many other places to go.
Farrer road is really different during school holidays!
Dec 2008
Farrer road has really smooth traffic during school holidays! Too bad it's just 2 to 3 months a year.
Give way to bus is here at last
Nov 2008
News: Give way, or else...
Date: 2 December 2008. Source: ST.
Errant drivers may be fined $130 from March; move is part of plan to speed up bus trips
FROM next March, motorists who do not yield to buses exiting bus bays could find themselves facing a $130 fine.
Transport officials announced the penalty yesterday as part of a plan to speed up bus journeys, almost 10 per cent of which is wasted as drivers fight their way out of bays.
About two dozen stops across the island will soon have new signs and road markings warning drivers to steer clear of buses pulling out.
The scheme will start with selected bus stops along Ang Mo Kio Avenue 8 on Dec 20, followed by more bus stops along Bukit Batok East Avenue 3 and Toh Tuck Road a week later.
After a three-month grace period, drivers will face the prospect of fines if they are caught breaking the rules.
SBS Transit bus captain Wong Puck Chiang, who has been plying the roads for eight years, said the changes would make his job 'less stressful'.
He spends up to two minutes trying to exit at many of the bus stops along his route from Jurong East to Bedok.
Said the 53-year-old: 'During peak hours especially, people are rushing to work and no one wants to give way.
'I have to inch out slowly and then put my hand out and wave to drivers to give way. It's very stressful because we are trying to keep to our schedule.'
A study by the Land Transport Authority (LTA) has shown that 10 per cent of a bus' total journey time is spent trying to exit from bus bays.
At the new stops, yellow lines will be painted on the road marking areas that are off limits to drivers when buses are pulling out.
A blue sign 100m before the bus stop will remind motorists that they have to give way, while white triangular markings on the road will encourage them to slow down.
If all goes well, more bus stops, especially those along roads with high volumes of traffic, will be included in the scheme.
Land Transport Authority chief executive Yam Ah Mee said yesterday that the plan was unlikely to slow the speed of motorists significantly.
The new scheme is part of the Government's push to make public transport more attractive to users. The drive includes more bus lanes, additional premium bus services and fundamental changes in the way bus routes are planned, with the LTA taking over from private transport companies.
Whatever the newspaper says the LTA is considering, there's a high chance it will eventually come out.
Just try to avoid using the leftmost lane as much as possible.
Fined!
29 Nov 2008
I got fined for illegal parking in my own carpark. This is way too much, even though I'm wrong. I'm going to appeal.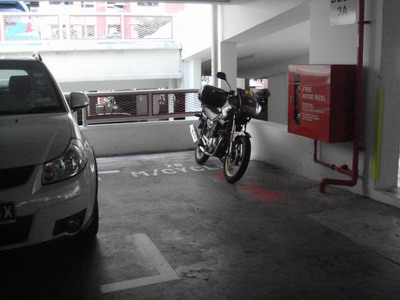 Everyone has parked that way as far as I can remember. It is understandable given the limited sheltered lots. In fact, if you park correctly, I think your bike will get scratched or even burnt. (It is also pretty hard to get in and out of the lot; I've tried.)
I believe the parking wardens are more forgiving at night. My mistake was leaving the bike parked this way for two days, as I drove to work instead. (I was fined in the afternoon.)
Or maybe the wardens are stricter now. Many bikes used to park in sheltered non-parking zones overnight, but now I notice more bikes are parked on the top level instead.
I wasn't able to keep a clean record this year after all. I got fined once at the start of the year, and now I get fined again at the end of the year!
The big crash
19 Nov 2008
News: COE crashes to $2
Date: 19 November 2008. Source: ST.
The other categories all ended much lower too
WHAT is thought to be impossible in an open bidding system has happened: COE has crashed.
At the close of the latest tender on Wednesday, COE premium for cars up to 1,600cc - the mainstay of car buyers - closed at an unprecedented $2.
Motor traders were shocked. All said the market was soft, but no one expected the price to crash.
The number of bids submitted exceeded the COE supply of 1,851 by only one.
The other categories all ended much lower as well.
COE for cars above 1,600cc closed at $4,889 - almost half the previous value. The Open COE, which can be used for any vehicle type, ended at $6,889 - down from $10,490 before.
COE for commercial vehicles finished at $6,189, from $8,889; and motorbike COE dipped to $1,012, from $1,509 previously.
It is the first time that a COE premium for cars has fallen to rock-bottom. The last time car COE came this close was in December 1997, when the premium for big cars plunged to $50.
Observers, however, pointed out that that was during a closed bidding system, when bidders could not see what the prevailing bids in a tender were. In a way, they were bidding blind, they said.
Soon after the $50 result, the system was changed to an open-bidding platform. In this system, bidders could see the value of bids being submitted, and thus could base their decision on the prevailing demand.
The other time when the market witnessed a COE crash was in early 2007, when premium for commercial vehicles hit $1 for six consecutive tenders.
This was because many commercial vehicle sellers could not get their supply of new models that would meet a new emission standard the Government pushed through.
Sales of new commercial vehicles almost ground to a halt, resulting in the COE crashes.
The latest crash may not benefit everyone though. Car owners planning to sell their vehicles will have to stomach much lower resale values. Used car dealers, already jittery over a high inventory, will not be willing to take in more cars.
This will create a vicious circle, as folks who cannot sell their existing cars won't be looking for a new one any time soon.
It's unbelievable. Cat A COE crashed to $2! 12 people didn't get it presumably because they bid $1 and there's only 11 left to go around.
Is the economy that bad already?
The previous time cat A COE was so low was in 2001, when it was $101.
Will this "save" a generation of cars, just like in 2001? Not yet, because the PQP is just 1/6 cheaper (average of 3 months COE).
Update: a later ST article said car dealers kept out of the auction because they had too many cat E COEs on hand. If this is true, then they deserve it — for propping up the COE the past few rounds.
Keep clear of reversing cars
17 Nov 2008
I was following behind a car on a minor road when it came to a stop. It was not unexpected, as there were parallel parking lots beside the road.
The car started to reverse. I honked. The car continued to reverse. I tried to pedal backwards while continuing to honk, but I was too slow. The car crashed onto my bike.
(I had not expect the car to reverse as there was no lot for her to park.)
The lady driver alighted. To her credit, she asked me if I were alright before she took a look at her car. The bumper was crushed inwards. I told her it can be knocked back easily. Just as I said so, the bumper went back to its original shape!
The driver told me she did not see me. Did not see me? Did she check the rear mirror or not? (Speaking of which, I got deducted points during my TP parking test for relying only on the rear mirror and not turning my head to check. Now I see the point.)
Since there was no visible damage on both vehicles, we went our own ways.
A near accident
16 Nov 2008
My carpark entrance has potential for three kind of accidents:
Because it's a 90-degrees turn from a major road (3-lane, 50 – 60km/h type), a car tends to overshoot the going-in lane and enters the outgoing lane. This is dangerous if another car is actually going out.
People crossing the carpark entrance because it is part of the walkway. So far I observed that about 25% of the people didn't check for safety.
Cars moving out of their lot when you enter the carpark. There's almost no time to react.
I encountered the last one today. It's a good thing the driver slowed down to check for incoming traffic after he inched out slightly. Nevertheless, I braked hard to avoid hitting him (if he hadn't stopped).
I had let down my guard somewhat because I was almost "home free"!
Always slow down, be alert and give as much allowance as possible when crossing a row of parked cars. Safety cannot be over-emphasized.
The truth about motorcycling
Nov 2008
A quote from the Internet:
If you ride a motorcycle often, you will be killed riding it. That much is as sure as night follows day. Your responsibility is to be vigilant and careful as to continue to push that eventuality so far forward that you die of old age first.
A simple way to bypass the carpark gantry
Nov 2008
It's so simple that I have never even thought of it. It looks like I'm just not desperate enough to save $0.65/entry.
The ERP gantry is usually on the right. Stay on the left side and wait for a car to enter. When it does, pass through the gantry together. Do the same thing when you exit.
It works for busy carparks and for motorcycles only.
I was perplexed when I first saw a motorcycle waiting on the left hand side. It was only after he followed a car in that I had my hand-slapping-face moment.
"Tonight, change has come to America"
Nov 2008
Martin Luther King, 1963: "I have a dream".
Barack Obama, 2008: "Tonight, change has come to America."
Motorcycling is dangerous
30 Oct 2008
News: 3 motorcycle deaths in 2 days
Date: 28 October 2008. Source: ST.
MR MOHAMMAD Ali could barely walk, yet he insisted on bearing his wife's body all the way to her grave.
The 38-year-old motorcyclist was the victim of an accident which left his 25-year-old wife, Ms Norazirah Ajis, dead and him with severe abrasions on the arms, and an injured right foot.
Though still hurt, he requested an early discharge from hospital so he could attend her funeral on Tuesday, still wearing the hospital-issued shirt over a pair of jeans.
On Monday afternoon, the couple were travelling from their home in Yew Tee to visit Mr Mohammad's mother in Clementi when their motorcycle was struck from behind by a car.
Ms Norazirah was run over by the car after the collision, which happened on the Pan-Island Expressway, near the Corporation Road exit.
The driver of the car, a man in his late 50s, has been arrested for drink driving.
It was the third fatal motorcycle accident to occur in two days. All of them were also on the PIE.
On Sunday, at around 3pm, Mr Mustaffa Nordin, 25, skidded as he tried to negotiate a bend along the expressway.
He collided with the side rails, and died later from severe injuries.
Then, in the early hours of Monday, 19-year-old Yau Si Hui died when the motorcycle she was riding pillion on, was hit by a swerving car.
The teenager, who worked as a sales assistant, was said to enjoy going out on bike rides with her friends.
According to the Traffic Police, fatalities involving motorcyclists and pillion riders rose by 19.6 per cent, from 46 between January and June last year to 55 in the same period this year.
A reminder to myself not to take safety for granted.
Why is there unused COE quota?
Oct 2008
Someone posted a question on an online forum asking why there is unused quota left after every COE auction.
I believe it is because there is not enough COE to go around for the last bid, that's why the COE ended one bid higher.
For example, there are 1,846 Cat A COEs in the last round. The highest 1,846 bidders should get their COE and pay what the 1,846th bidder is willing to pay. However, only 1,835 bidders got their COE.
What happened is that there could be 20 people who bid at, say, $10,900. However, there are only 11 more COEs to go around. Hence, none of them get it and the cut-off point is one bid higher, at the 1,835th bid of $10,989.
The SGS auction works the same way and I must say this is a very fair way to determine demand-and-supply.
Pay ERP by credit card
Oct 2008
LTA, in conjunction with DBS, offers a new scheme where motorists are charged directly on their DBS credit card if they don't have a cashcard in their IU when they passed through a ERP gantry.
This is a very nice feature. The only problem is the monthly fee of $2.50.
I wonder if the IU needs to be powered. (The ID can be read even when the IU is unpowered.)
Don't ignore strange sounds
23 Oct 2008
I hear a tapping sound from my rear wheels in my past few rides. I could only hear it with my window opened, which is most of the time. The sound was quite soft, especially with the high ambient noise, but it was noticeable.
I know it's wheel related because it taps once per wheel revolution and varies with speed. I thought a stone was stuck in the tyre, but I couldn't find one after several inspections.
I finally found the culprit yesterday: a nail embedded in the rear right tyre! I removed it after deciding that it was a shallow penetration.
Interestingly, I still hear a faint tapping sound. It should still be wheel related. However, I don't find any more nails after several inspections. This is even more mysterious.
$7.6k cat B COE
Oct 2008
News: COE prices fall across the board
Date: 22 October 2008. Source: CNA.
COE prices for vehicles fell sharply across the board in the latest bidding exercise.
The Certificate of Entitlement (COE) for big cars (over 1,600cc) saw the biggest fall. It tumbled S$6,811 to S$7,589, its lowest level since February 2007.
Open Category COEs, which are used mainly for cars, dived S$3,057 to S$12,001.
For small cars of 1,600cc and below, the COE price fell S$2,812 to S$10,989.
Meanwhile, the premium for commercial vehicles dropped S$4,396 to S$11,503.
For motorcycles, the new COE price is S$1,609 - down S$280 from the previous tender exercise.
It's amazing how much the Cat B COE fell by. This is despite a smaller COE quota. The demand is just not there.
Giving way in lane 1
Oct 2008
Many people say that they will give way when they are in lane 1 if they see a faster vehicle behind them.
I observed that some people don't give way because they are over the speed limit.
Some people also don't give way because they are the last car in a "convoy", so they think that the car behind them will still be stuck if they give way, so they don't.
Are convertibles rare?
Oct 2008
Convertibles are supposed to be less than 1% of the car population. However, I see them on the road quite often. I saw four on my way home: 2 BMWs, 1 Mini Cooper and 1 Beetle. A convertible with its top down is a rare sight, though.
Taxi fuel surcharge remains
Oct 2008
ComfortDelgro said that it would remove the 30 cents fuel surcharge when the diesel price goes down to S$1.19 (net) , the level seen in December 2007. At that time, crude oil was around US$100. Today, crude oil is US$70 but diesel price is still S$1.53 (net).
Well, our local oil cartel raises price quickly but lowers it slowly.
When lowering price, the moving average must be going down, the spot oil price must be lower and the future oil price must be lower too.
When increasing price, they just use any excuse to do so. The most typical is the increase in the spot oil price. It's like they hedge when it's low but not when it's high.
It doesn't make sense. It's good to be a monopoly or oligopoly in Singapore.
Free motorcycle parking? Hmm...
Oct 2008
I was pleasantly surprised when I went to the Toa Payoh town centre and found that the entry gantries have been shortened! I wasn't charged on my exit too.
Is HDB planning to make parking free for motorcycles? If so, that's good news!
Update (18/10/2008): it was too good to be true. HDB installed a new barrier that was longer!
The return of cheap oil
Oct 2008
Oil is now under US$80. People have no incentive to conserve anymore. I foresee ERP increasing.
Motorcycle COE
Oct 2008
The motorcycle COE went up to $1,889. I doubt it will come down any time soon as the quota was reduced.
Sometimes I wonder if the high COE is to discourage renewal of older bikes.
Look out for parked cars!
8 Oct 2008
I was almost hit by two vehicles as they came out of their parking lot today!
The first time, I was going past a pickup. The driver was looking in the other direction. I was very close to the pickup and I braked immediately. The driver finally turned his head and braked. I bet he would never forget my frightened look as I braced for impact.
The second time, I was going past a van parked face-in. The driver reversed out as I went past him — I only saw the reverse lights when I was right behind the van. I quickly swerved to the right to avoid him. Luckily, the driver also realized I was behind his van and stopped.
Entrepreneurship
Oct 2008
Some "foreign talent" indian lorry driver hit on the good idea of using his company lorry to ferry people for a fare of $2 after office hours. This undercuts the bus business, which charged $3 for the same ride.
If you're "hungry", you'll naturally think of ways to earn more. Locals are just too complacent and in their comfort zone in this regard.
Don't claim too much
Oct 2008
News: Insurer ditches motorist
Date: 3 October 2008. Source: ST.
Her coverage expires this month; another firm quotes premium of $6k
HOUSEWIFE Tan Poo Geok, 50, who has insured her car with AIG since 2004, was told two weeks ago in a letter from the insurer that it no longer wanted her business, citing 'claims experience'.
She had filed claims amounting to over $10,000 for two accidents - one last December and another in June this year. With insurance on her Mitsubishi Lancer expiring at the end of this month, she has been looking around for another insurer.
One firm quoted her a yearly premium of $6,000 - four times what she has been paying a year since 2004. She said: 'I feel quite helpless. I think I might give up driving and pass the car to my son.'
She is not alone in this boat.
The Straits Times understands that AIG, one of the biggest motor insurers here, could refuse to renew policies of motorists who have had two or more 'at-fault' accidents within three years.
Several other insurers also apply the 'two strikes and you're out' rule.
A senior executive of a Japanese insurer said: 'If you are such an accident-prone driver, perhaps it is best for everyone that you do not drive.'
General Insurance Association (GIA) president Derek Teo noted that motor insurers generally decline to provide coverage for a policyholder who gets into two or more 'at-fault' claims during the policy term or within two years. 'However, the final decision not to invite renewal may differ from insurer to insurer, depending on the circumstances of the claims filed and commercial considerations.'
A spokesman for NTUC Income, another major motor insurer, said it 'reviews every motor policy with claims in the past one year on case-by-case basis'. 'We may choose not to invite renewals for policies with high numbers of claims, drink driving, fraudulent claims and uncooperative policyholders,' he said.
Madam Tan said she could not find anything in her contract stating that she could not make more than a certain number of claims within a specified period. There is, however a clause that says the insurer reserves the right not to renew the policy. She said: 'I feel it's quite unfair. Accidents are random and definitely not planned. How can an insurer accept business when times are good and abandon the client when accidents occur?'
The Consumers Association of Singapore (Case) said insurers should find a better way of handling customers. Case executive director Seah Seng Choon said it was better to encourage 'at-fault' motorists to undergo a safety orientation course conducted by an independent party as a condition to continuing with the policy.
'I believe this is a win-win solution - the insurer gets to keep its clients and motorists learn to be better drivers. I urge insurers to be more proactive and show corporate social responsibility in helping to keep our roads safe instead of pushing the problem to another insurer,' said Mr Seah.
The GIA said it does not compile the number of motorists who are declined coverage each year, but reckoned the cohort to be 'relatively small', put against the total vehicle population of about 880,000.
Nothing to be surprised about. Madam Tan is now considered a high risk driver. Even with a $6,000 premium, the insurer stands to make a loss given her claim history.
If I were the insurer, I would try to earn back the $10,000. I would offer Madam Tan a premium of $6,000, half of which is refundable after three years of accident-free driving.
Engine oil leak
Oct 2008
My vehicles are having problems one after another. Now it's my car's turn.
My MX-5 has been leaking engine oil for a few months! I have been ignoring it because I thought it was from the drain plug. Small case. I finally ran out of engine oil, so I decided to tighten the drain plug.
Unfortunately, it was not. The oil was dripping from another spot. I should have been suspicious much earlier because the oil patch didn't seem to be below the drain plug.
The leak wasn't from the engine. The engine was dry throughout.
The whole bottom was too oily to find the source of the leak. After a few days, I finally found some time to crawl under the car to take a closer look. It was oily all over, including the whole transmission!
I sprayed degreaser all over the place and then rinsed the oil off.
The source was then apparent. The oil was leaking out of a "weep" hole in the transmission. Hmm, why was engine oil coming out of the transmission?!
Luckily, after looking up the MX-5's workshop manual, it looks like the leak is due to the oil seal between the engine and transmission.
(The weep hole is there to drain engine or transmission oil in the event of a leak so that the clutch will remain dry. A wet clutch is disastrous.)
The oil seal is supposed to be around $30, but it is necessary to take out the transmission to access it. This requires tearing apart most of the car! Despite so, the labour charge is supposed to be around $300 "only". (It's really a lot of work!)
I'm advised to change most of the oil seals, the clutch and the slave clutch cylinder at the same time. Plus, my gearbox is not really working well. Perhaps it's time to re-condition it as well.
Looks like a big bill coming up.